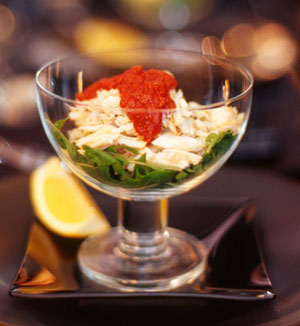 Are you having a dinner party at home and want to decide what appetizer to cook? You would definitely want something that is easy to make, light on the tummy, and most important of all, something that your guests will smack their lips over.
Well, why not make a crab cocktail salad? You can rustle up this yummy appetizer in just five minutes. It is light and nutritious, just perfect if your guests are health conscious people. And what's more, you can present it in an impressive manner to make your party picture perfect.
Complexity level: Easy
Time taken: 5 minutes
Ingredients:
1. Lump of crab meat: 1 1/2 pounds
2. Ketchup: 3/4 cup
3. Prepared horseradish: 1/2 cup
4. Tabasco sauce: 1/2 teaspoon
5. Iceberg lettuce, washed and shredded: 1 head
6. Cayenne pepper: 1/4 teaspoon
7. Lemon: 1 cut into 6 wedges
8. Juice of 1 lemon
Process:
1. For the dressing, place the ketchup, horseradish, lemon juice, and Tabasco in a large bowl.
2. Mix the ingredients properly. You can prepare this dressing mix in advance and store it in the refrigerator till you are ready to prepare and serve your salad.
3. Season the dressing mix according to your requirement. Usually, crab cocktail salad is made a little spicy.
4. Pick over the crab meat to eliminate stray pieces of bone or shell.
5. Fold the crab meat into the seasoned mix gently.
6. Place the lettuce into six bowls or glasses.
7. Use a spoon to place the crab and dressing mix over each piece of lettuce.
8. Finally, use a dash of cayenne pepper to garnish the salad assembly in each bowl.
9. Add a few lemon wedges to complete the assembly.
10. The crab cocktail salad is now ready to serve.
Tips
1. Fresh is the best: Always use fresh crab meat to make crab cocktail salad.
2. Volume it up: The iceberg lettuce that you use to make cups for the crab mixture adds volume to the salad. You can also add more volume by using other vegetables. For example, you can make a bed of greens using vegetables such as baby arugula or thinly sliced celery. When the crab is placed on this green bed, your cocktail salad becomes not just more attractive, but also adds to the nutrition factor.
3. The X factor: You can get even more adventurous and surprise your guests by adding some unexpected ingredients to your salad. For example, you can add some avocado on top of the assembly. Again, this gives an extra zing to the salad in addition to making it more nutritious.
4. Present to impress: Make the most of this classic appetizer with great presentation. Serve your salad in an attractive container that will stand out in the midst of all the other food and draw your guests' attention. So you can assemble the crab cocktail salad in a cocktail glass, a Champagne coupe, or a decorative cup.