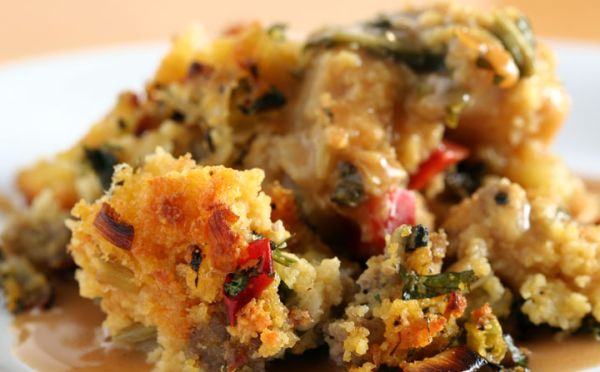 Now pondering over the word stuffing, it's originated in the middle ages. It was derived from a Latin word farce.The term stuffing first appears in English print in 1538. In modern days the word stuffing and dressing are used as synonyms. Here goes the recipe for cornbread stuffing.
Difficulty level: Moderate

Time taken: 45-50 minutes
Ingredients:
2 boxes Jiffy cornbread mix
1 package Pepperidge Farm Cornbread Dressing Mix
1 head or bunch of celery
1 medium yellow onion, chopped
3 beaten eggs
Chicken stock or broth
Process:
a. When you are planning to serve the corn bread you should before in hand cook the cornbread mix according to the directions mentioned on the pack of cornbread dressing mix. After cooking it let it cool for some time.
b. Clean the celery and chop its leaves well. Next chop the onions and saute them in a pan with a tablespoon of butter and when done remove it from the stove and let it cool for some time. Once the cornbread has cooled down, take a large bowl and crumple the cornbread in it. Next add the dressing mix to it.
c. Mix all the ingredients well and then add the chopped celery and sauteed onions to this mixture and mix all the contents of the bowl well. Cover the bowl and place it in a cool dry place for one whole night and let the flavors develop.
d. Once you are all set to cook it add chicken stock and beaten eggs to the cornbread mix and mix thoroughly. There is no exact measurement of the broth to be added however add the necessary amount to make the consistency like that of a cake batter.
e. Heat oven to 375.You can choose to use a large pan or a skillet. Whichever you choose to use add sufficient amount of oil in them. When the oven reaches to a temperature of 375 heat oil till it starts to smoke.
f. Remove the skillet or pan whichever you are using and pour in it the batter. This will help to form a good crust. Bake 45 minutes or until it is cooked through and top is golden brown.
Tips:
a. Choose a good quality corn bread.
b. To make it something special you can add a variety of stuffing like ham or sausages.
c. The addition of herbs and spices will add more taste to the cornbread or you can just leave it plain.
d. Handle the hot skillets with care, avoid any accidents.
So, this is how you make cornbread stuffing. Enjoy.