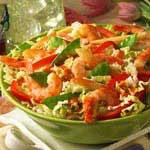 Thanks Pinoy cook for teaching us to cook healthy. I still remember your post on baked fish. Sauteing onions, garlic and cabbage, fish sauce and coriander will enhance the flavor of the dish.
Nevertheless, dressing the shrimps in a fish sauce or marinating it for an hour prior to cooking will give a better finishing to the flavors that can come out of both cabbage and the shrimps.
I think Pinoy cook will not disagree when I recommend it to pair it with white wine.