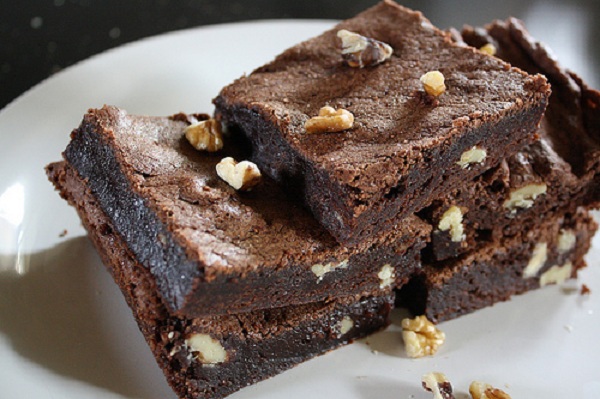 There were times when birthday parties meant baking cakes. Now, brownies have taken over chocolate cakes. The brownies were chiefly an American invention. Brownies are an anytime temptation. Many people prefer having them as my midnight snack. Its texture is medium, not too soft nor too crispy. Brownies come in a variety of tastes as fudge, blondie. Not just a birthday party savory, it is also a tea accompaniment, evening snacks. Brownies are a kids' favorite and why kids, even young adults relish the taste of brownies. So earn brownie points and go ahead with these simple steps to make a brownie.
Ingredients
1 cup self raising flour( in case you don't get self raising flour, you can use any kind of flour)
1 tablespoon baking powder
a pinch of salt
1 cup butter or 2 sticks of butter
1 1/4 cup cocoa powder
2 cups sugar
A teaspoon of vanilla
4 large eggs
Almonds and chocolate chips for garnishing
Process
1. Sieve together flour, baking powder, salt. Take care that the four ingredients mix well in the same proportion and form a brown colored mixture.
2. Preheat oven to 375 degrees.
3. Melt butter sticks in a microwave oven or a gas oven, whichever you prefer.
4. Grease a round ovenproof dish with butter and set aside.
5. Once the butter melts, add the cocoa powder into the butter and slowly fold in.
6. Add the sugar. It would be better if you use castor sugar. That prevents much stirring from your side.
7. Break eggs one at a time and add into the butter- cocoa mixture.
8. Now carefully stir in one direction to prevent any air bubbles.
9. Then add the vanilla.
10. Now slowly fold in the flour mixture, little by little. Make sure not to pour in the whole mixture at once.
11. Stir with a light hand or use a beater at low speed to prevent lump formation.
12. Your brownie batter is ready to be poured into the greased ovenproof dish.
13. Place the pan in the preheated oven and bake for 30 minutes.
14. Check if brownies are done by inserting a toothpick. If toothpick comes out clean, brownies are ready to serve.
15. Cool the brownies and cut into square pieces and serve.
Things to watch out for
1. While folding the flour mixture, don't overmix the mixture. It may become stiff.
2. Cut brownies into pieces only after they cool down.
Serving tips
If you want, you can sprinkle icing sugar on the brownies. You can also serve them with chopped almonds and chocolate chips. Also colorful tidbits are a favorite option in case you are serving them to kids. Serving with chocolate sauce makes it all the more tempting.