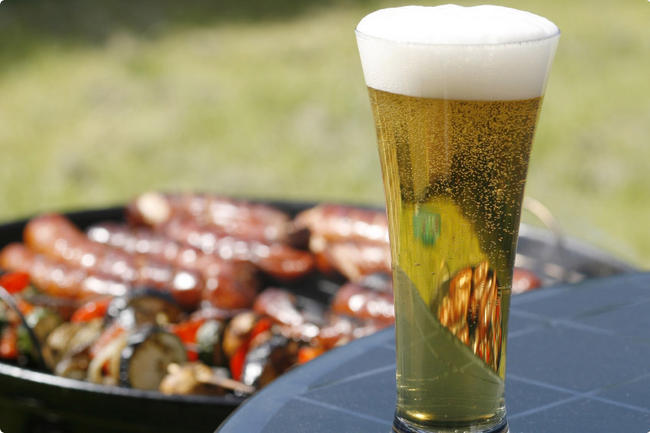 Beer and Barbecue is a deadly combination that sets your mood right. In a winter evening, it is the perfect idea to warm up and enjoy. Nothing's better than a mug of beer and barbecued chops. Sundays usually look incomplete if smoke isn't rising in the air. Besides, the smell of barbecue is captivating. Even the Oktoberfest in Germany is partial without barbecues and grilled chops and roasts. But sometimes, it is often hard to click on the right combo of beer that goes in with the hot smoky barbecues. Here is a small, compact list of beers that are the perfect match for barbecues.
1. Ayinger Altbairisch Dunkel
It is a German dark beer that's traditionally brewed in Munich. It has a smooth malty flavor that compliments the taste of barbecue and goes along well with its smoky flavor. Dark lagers that are produced under the Ayinger brewery label have become famous by the name Ayinger Altbairisch Dunkel. It is amazing when you have grilled pork in one hand and beer in another that makes your evening. It is faintly sweet and lightly crisp in nature that smells partly coffee and partly caramel.
2. Aecht Schlenkerla Rauchbier
It is another fabulous beer from the country that hosts Oktoberfest every year. It's an authentic smoked beer from the stable of Schlenkerla, a brewery in Germany that's reputed for this aromatic beer. It has a smoky aroma that is similar to the hot smoky barbecues. The beer's specialty is that the grain used in making this beer is unsmoked from which it inherits its smoky nature. It comes in three varieties- urbock, marzen and weizen. This beer tastes slightly sweet, has a hint of licorice hidden in it and has a smoky flavor that is sure to blow off minds.
3. Pilsner Urquell
From the land of Germans to the land of Russians, beer changes nation but never changes its strong delectable taste. This is a bottom fermented beer that's been produced since the year 1842. This is a dark beer that has raised bars of beer production and has a faint malty flavor along with a buttery smooth taste. It is of dark golden color and high clarity that makes it a good accomplice with the spicy chicken or pork barbecues served with a barbecue sauce. The dry taste usually makes up for the saucy barbecues. It is the original pilsner beer and first pale lager that beer lovers die to get a taste of.
4. North Red Coast Seal Ale
An elixir for American beer lovers. It has got plenty of American fast food to be served with, but definitely if barbecues are considered to be served along, then it's a one-sided affair. Manufactured by the North Coast Brewing Company, this beer is one of a kind and has been rated excellently at various beer fests. The Red Seal is a Pale Ale that's got predominantly malty flavor. The beer is much lighter in color as compared to other beers and is characterized by the fruity taste, fragrant aroma and is a sweet mix of caramel and malt that leaves your tongues wanting for more.
5. Left Hand Milk Stout:
Left Hand Milk Stout is another treat for American beer lovers from the Canadian manufacturer – Left Hand Brewing Company. It is one of the best compliments for barbecues and a tough competition to other beer varieties. It is a sweeter version that's malty taste along with the strong coffee aroma will take you by surprise and it is not strong enough, so can be tasted fearlessly. Suits any kind of barbecue and is a body-favorite.
Those who are of the myth that beer harms, you need to reconsider as a pint of beer daily works wonders for your health and is good for heart. Cheers to good health and a good life.