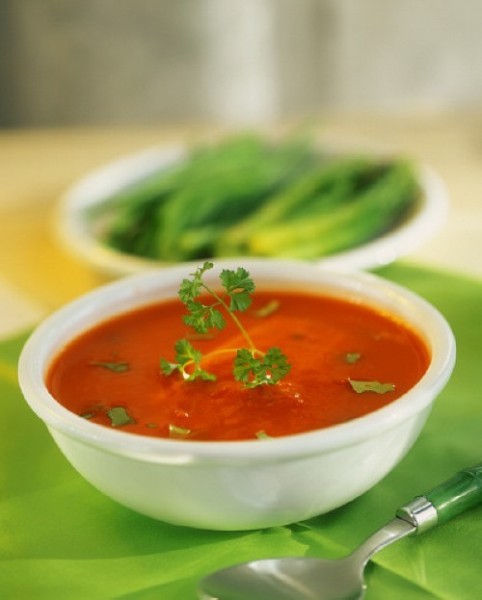 A meal cannot be considered complete without the initial serving of a proper soup. You should make sure that your soup not only tastes well, but also look attractive and tempting. It is important to present the soup in a unique way to make it look special. Here are some interesting ways that you can follow to make your soup look special:
1. Bread bowl
Bread bowl is an interesting way of serving your soup. Your guests will love it. Before making it you need to keep few things in mind. You require a round shaped loaf of bread, olive oil, and a basting brush. The process includes pre-heating the oven to 350 degrees. After that you need to slice half inch from the top of the loaf. Then you should artistically cut bread from inside to give it a hollow structure.
Remember to leave nearly two inches of thick portion inside. Once you are ready with the finely cut piece, then you have to brush olive oil inside the bread bowl with the help of your basting brush. The final step includes baking bread bowl for 15 minutes until it attains the brown color. Now, your bread bowl is ready to be served with soup.
Fun with bread bowl
a. You can try your creativity with the bread bowl. This is simple. You just need to save the top of the bread that you sliced, then brush olive oil inside it and finally bake it. Now, you have a bread bowl with a lid, which will keep your soup hot for long. It will also preserve the aroma of your soup.
b. You can also use this bread bowl for serving salads. If you are not planning for soup, and still want to be creative then go ahead and give your salads a unique presentation.
2. Try a swirl
This is another attractive way of serving your soup. For making a swirl, place two different kinds of soups in two separate heatproof jugs. You can try a combination of potato and leek soup in one of the jug and mushroom soup in the other one. Now, watch this magical swirl effect of the soup by pouring one jug over one side of the serving bowl, and the other one from the opposite side. You should always keep in mind that the soups, which you choose should complement each other. Try this and watch the amazing swirl effect.
3. Ribbon finishing
Giving your soup a ribbon finishing is another way of dressing the soup. For this you need a vegetable peeler. Slice sweet potato using the peeler into very thin ribbons. After that you need to deep fry the ribbons in hot oil until they turn golden. You should always drain it on paper towel before serving. Now, serve it on the top of your soup to give it a different effect.
Cooking can be real fun if you always add your creativity with it. Remember a designer soup can earn you laurels from friends and family members.