Holding a hot drink around the fire and just sitting and staring at the fire is one of the pleasures of winter. You may not have a fireplace, but you can certainly wrap your hands around a mug of a delicious hot drink and feel all warmed up and cozy. Check out this list of the best warm non-alcoholic beverage we have compiled for you.
12 warm non-alcoholic beverages for the winter
 Hot chocolate mocha and spiced orange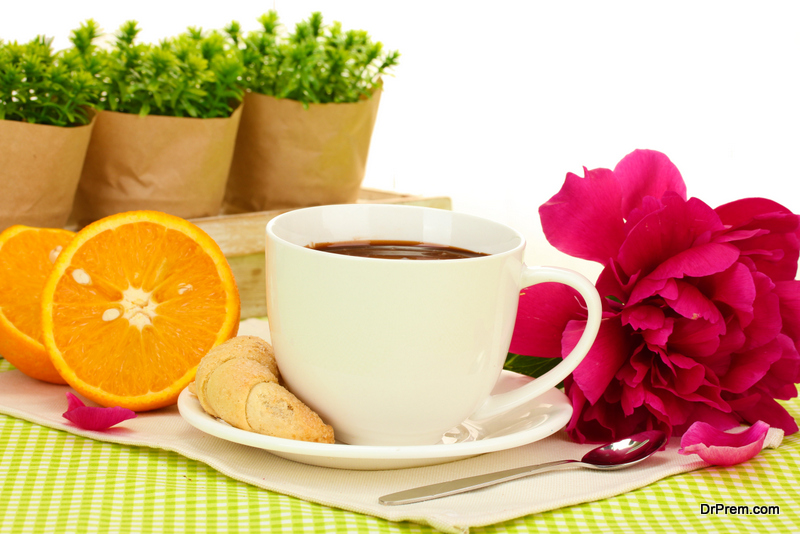 Hot chocolate is the favorite beverage for winters. Add a twist to this classic winter drink by blending tangy citrus flavors in it. The citrusy flavor is brilliant and the mug of simple hot chocolate is transformed into a magical winter beverage.
Caffe d'Orzo
It's a coffee substitute which is a little bitter, made from caffeine free roasted barley. Orzo and milk is a comfort food which is enjoyed with toast. Avoid milk if you want to, and sugar, if you are a vegan. This is one of the hot drinks for winters which can be made with plain hot water, and no need to add any sugar either. It is available in specialty food stores or online.
Atole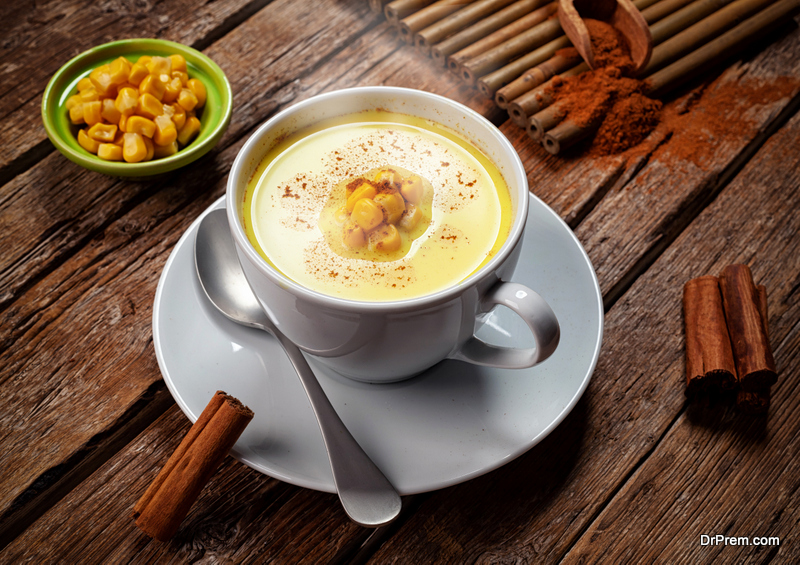 This is a warm non-alcoholic beverage from Mexico. It has been around since the time of the Aztecs, by blending the corn which is ground into powder with water. These days people make it with steaming hot milk also. You can find atole on the streets of Mexico, sold by vendors.
You can make atole at home from the atole powder sold online or buy it from the Latin grocery stores. Coconut, guava, tamarind, strawberry, peanut butter, vanilla and pumpkin are the flavors to choose from. Add chocolate as well as cinnamon and various nuts to increase the nutrition value and taste. Quite a unique hot drink for the winter you can try.
Shino Saito
Traditionally, this beverage has its origins in the far eastern countries of Japan, China, Korea and Taiwan. It is basically sweetened soy milk, which is had warm or hot. It is usually had with breakfast. It can be bought pre-packaged and heated up. Make your own soy milk at home from dried soybeans, cheesecloth and blender.
Raspberry cocoa cream milk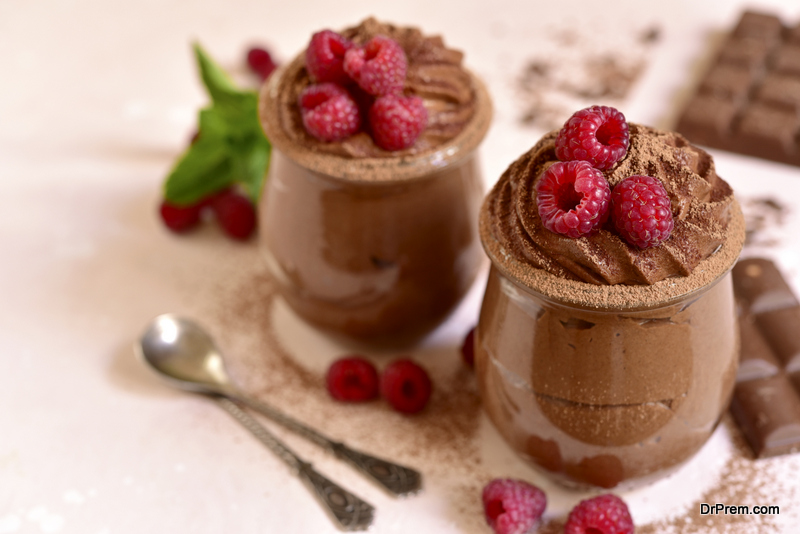 Hot drinks for winters can be fun and interesting. Such as the hot raspberry infused cocoa, with milk, cream and real chocolates. You don't even need to buy a powder, except for the cocoa powder. Add a raspberry flavor chocolate to the piping hot chocolate mug, and you have an incredibly delicious drink to savor.
Non-alcoholic toddy
One of the best non-alcoholic winter drinks is the toddy with no alcohol in it. It's warm and soothing and does not have liquor either. It's a drink made out of tea, but transformed into a winter mocktail with sweetener, spices and citrus. It's great for colds too.  Gather lemon juice and  cinnamon stick or ground cinnamon to taste, and honey (or other sweetener), cloves, nutmeg (ground) each ½ teaspoons. Add 7 ounces of tea and enjoy the fresh, spicy tea.
Malted Milk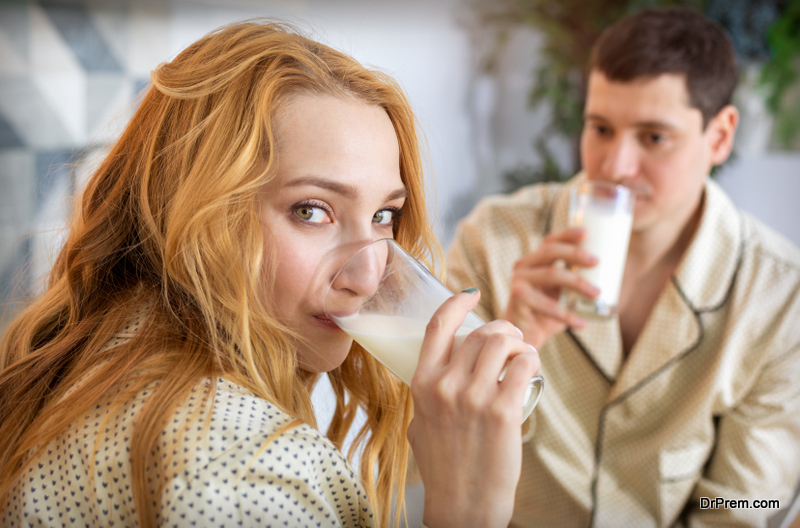 Malt milk is the favorite hot drink in India, Britain, and Southeast Asia. It is a mix of malted barley, milk solids and sugar. Horlicks is the name it is sold under in these countries and similar products are Ovaltine, Milo and Carnation. The taste is great for milk lovers who want something different. All you have to do is mix the powder with hot water or milk or tea even.
London Fog Latte
Try this when you want a warm pick me up. It's made with Earl Grey tea, a pinch of lavender in steamed milk. It's a very different taste and this tea latte is not like coffee at all.
Sahlep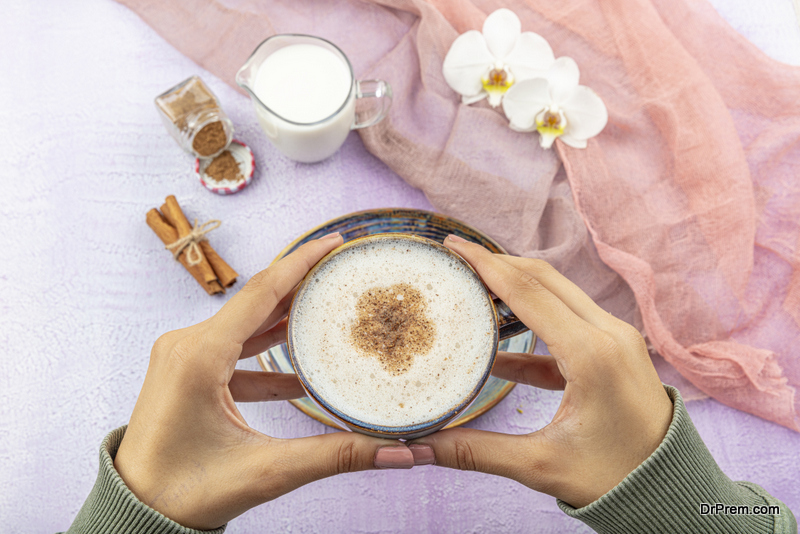 Sahlep is again  an ancient drink, dating back to Ottoman empire. It is found in Greece, Turkey and Middle East. It is made from powder of orchid bulbs. When mixed with milk, the result is a wonderful creamy concoction unlike anything you've ever tasted. The floral flavor and the sweetness of the drink is lovely and is one of the best non-alcoholic winter drinks. Sprinkle cinnamon on top for the spicy zing. The drink is supposed to be good for strengthening heart and sharpening the mind. Some say it relieves constipation (which hot milk anyway does), and subdues coughs. You'd love the lovely aroma which spreads in your home while making it. Purchase sahlep powder online and enjoy the unique drink.
Old fashioned Wassail
Apple juice, pineapple juice, spice and apple juice are used to make this wonderful drink for the winter. Mix these juices and warm the concoction for a warm winter version of the mixed fruit juice.
Masala Chai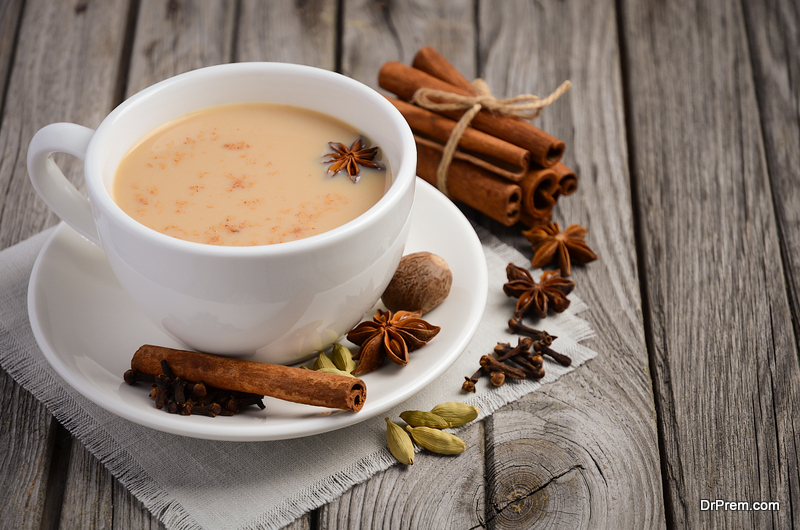 A lovely warm cup of masala chai will warm you up from the inside. It's prepared with many aromatic spices, as well as ginger and can be had with or without milk. The traditional way to drink masala tea is with a lot of milk and sugar. Masala tea spice mixes are readily available as well as masala chai tea bags.
Sbiten
Made from honey, water and spices, this cool or rather hot drink is perfect for the winter. It's a  hot drink made from water, honey and other spices. It is not grain or milk based like other hot beverages. People add jams or fruits to it. All you have to do is boil the water, add honey, lemon or orange zest, cinnamon sticks, nutmeg, cloves, ginger and mint. Let the tea sit for 15 minutes, strain the solids and then pour into mugs to enjoy.