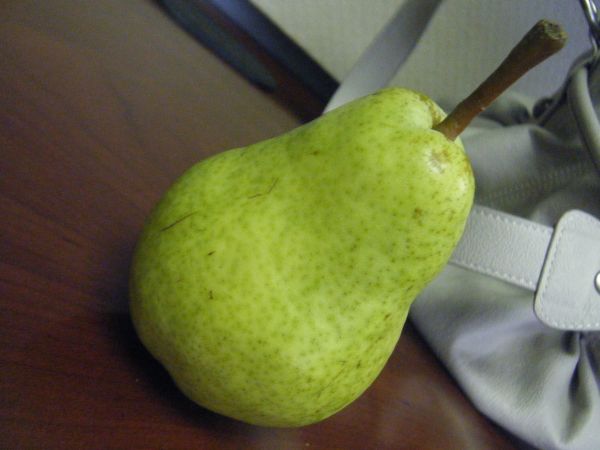 Pears are an excellent source of the vitamins B2, C, and E. They also contain the minerals potassium and copper in addition to fiber. The chance of getting cancer is lowered due to its high quantity in fiber. It is also considered a good food to be given to infants. Pears also provide folate to expecting or nursing mothers.
There is nothing more healthier than eating a pear. You can even drink pear juice, which helps cool your body during the summer seasons. It provides a natural source of energy and also helps in relieving fever.
1. Yummy salads
You have to slice a Red Anjou, a yellow Bartlett (widely grown variety in Canada) and you can also include a brown Bosc. Use some mixed greens and place the slices you have just made above it. Sprinkle some blue cheese and just to make the taste more special add some olive oil and vinegar to it.
2. Side dish
Cut some pear wedges into thick pieces and place them in a pan around a pork roast. Before cooking it in the oven, sprinkle some chopped rosemary over it.
3. Awesome Thai
Stir fry cubed chicken breast. Add some slices of pear along with fresh ginger and red pepper to the cooked chicken . A few more minutes of cooking will make the Thai pears chicken ready to eat. Serve it with some delicious rice noodles and garnish it with chopped peanuts and cilantro.
4. Delightful desserts
Cut the pears into two halves and remove the core. Place the sides that have been cut in a baking dish. You need to bake this for about 15 minutes until it is slightly soft. After this is done, take out the baking dish and turn over the fruit, pour some yummy chocolate sauce and bake for five more minutes. After you have baked it, garnish it with some chopped pecans.
5. Flavored brunch
Are you having some pancake, muffin or loaf batter for brunch? Add some extra flavor to it. Just grate a ripe pear into your favorite muffin or pancake. Sounds delicious, doesn't it?
6. Easy appetizer
Take a fresh, firm pear and cut it in rounds. Top it with a thin slice of Brie cheese. Use some chopped hazelnuts to sprinkle on the cheese covered pear. Broil until cheese starts to melt.
7. Stuffed pear-fectly
Squash the pear halves and bake them until they are tender. Make a mixture of chopped pear, parsley, feta and cooked semolina and fill it. Bake it again till it has been heated thoroughly.
8. Simple and tasty
You can always be creative and add some extra flavor to your chicken or vegetable curries by adding chopped pears. Adding grated pear and cucumber into some nice yogurt is also a good option.
9. Delicious crispy
Mix some fresh sliced pears with cranberries and a small portion of maple syrup. Rolled oats has to be combined with a little brown sugar, flour and dissolved butter. Continue baking till the pears are smooth and soft and the topping is brown.
10. Mouth-watering salsa
Add jalapeno and cilantro to chopped pear to make delicious salsa. Top it up with a some lime juice.