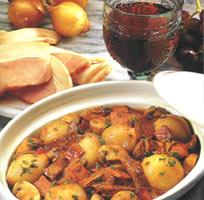 I want to bring a little twist to my wine pairing tradition. This time I want to inform you about the new trend set by the Spittoon blogger in the wine accompaniments with a beef stew.
Isn't the very thought of a double wine pairing sets you on a spree? Well, it does. I am tempted to throw a party only with a beef casserole and Maison Maurel Vedeau Le Minervois or may be a Domaine du Fraisse Fleur de Cuvee .
The spittoon blogger finds both that these two red wines work wonderfully with a beef stew. While the former is replaces, the taste of beef slowly with the flavor of black fruits followed by an acidic sting, the latter is richer in flavors and it is rated with an extra two points than the former wine.
Therefore, guys check out for any of the wines, in accordance to the intensity of the stew and your moods.
Thanks Spittoon