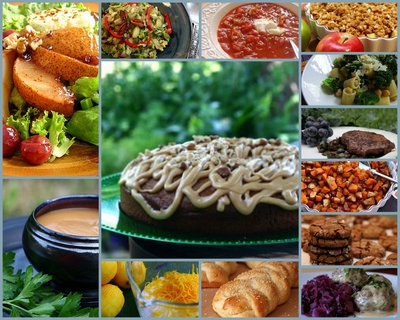 You would want your New Years Eve to be special. However, if you decide to spend this special evening at home, you would definitely want to make sure you and your family enjoy each moment of this special night. What can be more special than food cooked at home? Following are some simple and quick New Year recipes:
1. Baked Ham in Champagne
Baked ham in champagne is an American recipe. What make this recipe special are the sweet and sour flavors of its sauce made up of champagne, brown sugar, mustard, honey and ginger.
Complexity level: Easy
Time taken: 2½ hrs
Ingredients
1. Boneless ham about 1pound
2. Light brown sugar approximately 1pound
3. 2 bottles of extra dry champagne
4. 3 tbsp honey
5. 1½ tsp Ginger (should be ground)
6. 1½ tsp dry mustard
Process
a. Score and bake the ham
Score the ham properly and place it in a baking pan. Now spread the brown sugar and more than one bottle of champagne over the ham. Bake it on 325degrees F. for about 2hours.
b. Basting the ham
The remaining champagne, brown sugar, honey and mustard need to be added to a sauce pan to bring to a boil. Once the ingredients boil well, simmer the flame of the stove. Basting of the ham needs to be done every 15 minutes with the boiling ingredients.
c. Garnish the ham
Pineapples and spiced apple can be used to garnish the ham.
2. Spaghetti Carbonara
This traditional roman recipe is famous for its silky sauce made by tossing the pasta with raw eggs. The eggs actually are cooked by the pasta itself.
Complexity level: Easy
Time taken: About 1hour
Ingredients:
1. Extra virgin olive oil about 2tbsp
2. About 2tbsp of butter
3. Pancetta approximately 4ounces cut into ¼inch dices
4. Dry white wine only ¼cup
5. Spaghetti pasta 1pound
6. Fresh parsley about 1tbsp, chopped finely.
7. Freshly grated Parmigiano and Reggiano about ¼cup
8. 2tbsp pecorino romano needs to be freshly grated.
9. Salt to taste
10. 2large eggs and two large egg yolks
11. Freshly ground pepper
Process
a. Cook the pasta
Use a big pot to boil at least 6ounces of water, let the water boil before adding the pasta and the salt. Boil till the pasta is cooked. Be careful of over cooking.
b. Cook the pancetta
In a 10"skillet pour the oil, butter and the pancetta. Over medium high flame cook the pancetta till it becomes brown, say about 3 to 4minutes. Now add the wine and cook the ingredients till it reduces to half. Take it off the flame.
c. Combine rest of the ingredients
In a serving bowl add parsley, cheeses, eggs, yolks, salt and pepper and whisk thoroughly till all the ingredients blend well.
d. Mixing everything together
Once the pasta is cooked drain it well and add to the egg and the cheese mixture in the serving bowl. Bring the ingredients in the skillet to a boil and pour over the pasta. Toss everything vigorously.
3. Recipe of Caviar and Cheese Stuffed Snow Peas
This is a traditional Russian recipe. The famous appetizer is known for its health benefits and yummy taste.
Complexity level: Easy
Time taken: 17 to 20minutes
Ingredients
1. Red lettuce leaves
2. 2ounces of caviar of either salmon or lump fish
3. Salt to taste
4. Freshly ground black pepper
5. 1lime both the juice and zest
6. Fresh snow peas about 36
7. Crème fraiche about ¼cup
8. Minced fresh dill about 1tbsp
9. Cream cheese about 2tbsp
Process
a. Blanch the peas
Bring a bowl of salt water to boil, now add the peas to the water and blanch for 2minutes. Drain the peas into cold water. Slit the peas very carefully in order to make a pocket for the stuffing.
b. Make the stuffing
In a mixing bowl add crème fraiche, dill, cream cheese, lime juice and zest. Mix everything well and then add salt and pepper powder. Finally add caviars and mix carefully.
c. Stuff the peas
Carefully stuff the snow pea with the caviar cheese stuffing
4. Recipe of Spaghetti with Caviar and Asparagus
The famous Russian recipe is famous for its creamy asparagus and salmon sauce and caviar garnishing.
Complexity level: Easy
Time taken: 30minutes
Ingredients
1. 1½ pounds spaghetti
2. Salt about 1 tbsp
3. Butter about 1 ½tbsp
4. Olive oil about 1 tsp
5. Heavy cream about 2/3 cup
6. Asparagus spear sliced about 1 pound
7. Pepper and salt to taste
8. Smoked salmon about 1 pound cut into small pieces
9. ¼ cup caviar of Sevruga
Process
a. Cook the spaghetti
In a large bowl add water, salt and olive oil and bring them to a boil. To the boiling water add spaghetti and cook till it is firm.
b. Make the sauce
Use a nonstick sauce pan to heat the butter, heavy cream and the asparagus. Now add the salt and the pepper once done. Remove from the flame. Now add the salmon and cook for about 6 to 8minutes.
c. Mix all well
Drain the pasta and add it to a serving bowl. Now add the sauce and the caviar and mix gently.
5. Brie Roquefort and Wild Mushrooms Fondue
The recipe of Brie Roquefort and Wild Mushrooms Fondue is a Switzerland recipe and is famous for mushrooms and herbs blended with Brie and Roquefort cheese.
Complexity level: Easy
Time take: 40minutes
Ingredients
1. Olive oil about 1½ tsp
2. Fresh shiitake mushrooms about 4 ounces (they need to be stemmed and caps need to be dices)
3. Fresh thyme chopped about 1 tsp
4. Shallot 1, minced
5. All purpose flour about 1½ tbsp
6. Chilled 60% 12ounces of doubled cream, brie cream
7. Chilled Roquefort cheese about 2 ounces
8. Dry white wine about 1cup
9. 1 crusty loaf white bread cut into 1½ inches cube
10. Vegetables such as carrots, blanched broccoli, cauliflower, small potatoes – boiled
Process
a. Cook the mushroom
In a skillet pan heat the oil on medium high flame, add the mushrooms and thyme. Cook for about 2 minutes till the mushrooms are soft.
b. Toss brie and Roquefort
In a large bowl add the flour, cut the brie into cubes and add to toss. Separate the brie cubes. Roquefort needs to be crumble into the same bowl to toss.
c. Smoothen the cheese
In a medium sauce pan heat the wine on medium flame. Simmer the wine and add the cheese to it one by one, stir till cube of cheese melts before you add the other. Continue to add cheese and stir till a smooth paste is formed.
d. Mix the mushrooms to the fondue
Now add the mushrooms to the fondue you have prepared. Season the mushrooms with good amount of pepper and transfer it to a pot. Place the pot over a Canned Heat burner before you serve it with vegetables and bread.