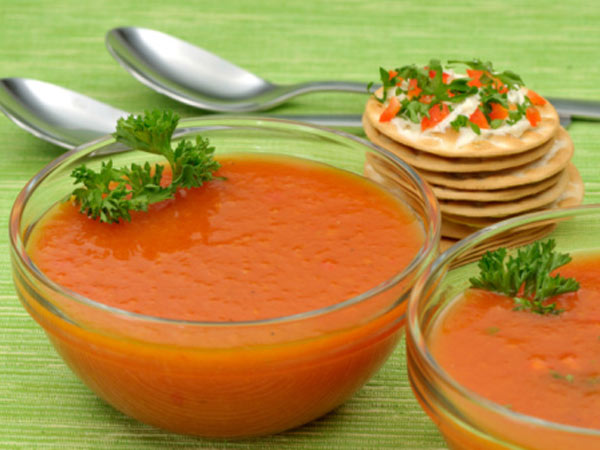 Its winter! The best way to warm up is by digging out the pots and all the soup recipes or buying them ready made from the market. From seafood to vegetable, the best way to warm up the whole family on a chilly winter day is by feeding them a hearty bowl of pipping hot soup. Go beyond the chicken soup and minestrone with the below collection of 10 winter soup recipes which vary in taste, ingredients and texture to give you a lot of variety during these long dreary winter months.
1. Daylesford organic broccoli and stilton soup
This organic soup is so thick that your spoon just stands in it. This has a nice cheesy kick to it without losing on the broccoli flavor.
2. Duchy originals fresh organic chicken mulligatawny soup
This chicken mulligatawny soup is a wonderful blend of spices along with plenty of chicken pieces and chilli to give ample warmth during the winter.
3. Marks & Spencer green Thai spiced chicken soup
Green Thai spiced chicken soup is a mildly spiced chicken soup in coconut milk. The water chestnuts in the soup add a nice crunch to every mouthful you take.
4. Whole Foods organic lentil and country vegetable
Hints of coriander, cumin and turmeric add a nice kick to this healthy wholesome soup.
5. Yorkshire Provender beetroot parsnip with horseradish and ginger
This soup has a delicious earthy flavor with subtle spiciness provided by the horseradish and ginger
6. New Covent Garden chilli bean soup
This rich and chunky soup has enough spice in it to pack quite a kick.
7. Tesco puy lentil and vine ripened tomato soup
This soup is bursting with the flavors of sweet tomatoes, smoked peppers and coriander making it quite an accomplished dish.
8. TideFord organics Tuscan vegetable soup
The Tuscan vegetable soup has a wonderful rustic flavor and is packed with the goodness of vegetables such a potatoes, courgettes and plump beans.
9. The Dorset pea n blue soup
Pea n blue soup is a creamy smooth soup made of garden peas, croutons, blue cheese and hints of Dorney blue vinny cheese.
10. Waitrose butternut squash and ginger soup
A smooth and creamy soup made of butternut squash infused along with the warm flavor of ginger and red chilli, has not just an appealing color but also a velvety texture. This is one hearty soup for the long winter days.