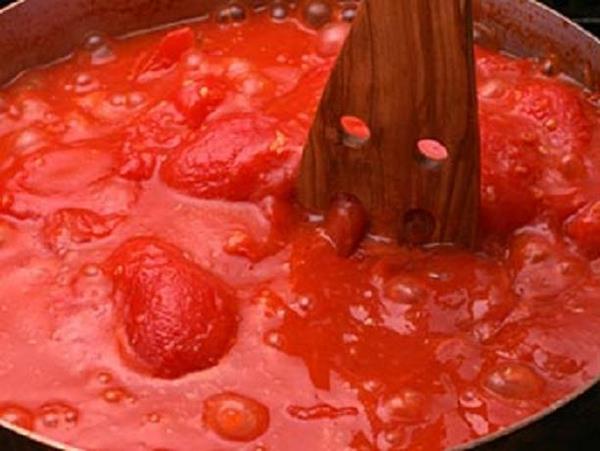 Tomato ketchup and sauce are utilized in every household today. They are popular and highly in demand. They are available in sweet, sour and spicy flavors. It enhances the taste of dishes like noodles, parathas, dhokla, rice, sandwiches etc.
You can easily prepare the dish at home. Preparing tomato sauce at home ensures hygiene and taste and that too at half the price of the ketchup bottle purchased from market. Also it doesn't require any expertise or practice for its preparation.
Special care should be taken while selecting the tomatoes for the sauce. Ripen tomatoes are considered perfect for the sauce preparation and so green and unripe tomatoes should be separated from the lot in order to avoid discoloration of the sauce.
Complexity level: Easy
Time taken: 10-15 min
The list of ingredients needed to make tomato ketchup is given below.
Ingredients
2 ½ kg ripe tomatoes
2 large Onions or 4 small onions
2 Garlic pods
8 corns of Pepper
Half teaspoon of red Chilli powder
Half flat teaspoon of Jeera
Vinegar
Preservatives (Optional)
Process
1. Thoroughly wash the tomatoes and remove the contaminants from its surface. Boil the ripe tomatoes. Remember to boil them in thick bottom vessel. Cook the same for about 10 min.
2. When you notice that the skin of the tomato starts peeling, remove the vessel from the fire.
3. By churning and staining remove the seeds from the tomatoes.
4. Finely cut onion and garlic and crush the spices slightly.
5. Put the finely cut onion and garlic, corns of pepper and jeera into a piece of thin muslin cloth. Tie it and make a solid stiff bundle and drop the same into the tomato juice.
6. Add about 25-30 g of sugar to the tomato juice and cook till volume of the juice is reduced to less than half. Keep on stirring on regular intervals.
7. Leave the spice bundle in the tomato juice as it continues to cook. You can remove the spice bundle when the sauce is completely cooked.
8. Add the remaining sugar and salt.
10. Cook, if required, till juice thickens to the consistency of sauce.
11. Add vinegar and red chilli powder. Immediately remove the vessel from fire.
12. Now you can remove the spice bundle from the ketchup.
13. Mix in the preservative and bottle the ketchup in an airtight container.
Tips
1. Ripen tomatoes are considered best for making tomato ketchup.
2. Cut the tomatoes into small pieces before boiling them.
3. In case you know that the ketchup will be consumed within time then there is no need to add preservatives.
4. You can use garlic powder instead of garlic.
5. If you want a simple sauce then avoid adding red chilli powder to it.