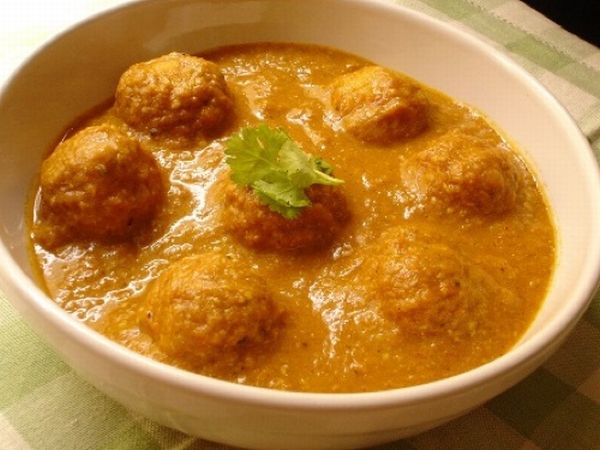 Regional Cuisine: Malai Kofta delicacy for true Indian flavor
The Origin: India
The cuisine
Malai Kofta is one of the most well known Indian curry dishes. It is famous for its delicious taste along with great food value. Normally, it is known as rich and spicy cuisine. But you can prepare this recipe in a healthier way too at your home. Most of the times you might get confused when any special occasion is there as you do not understand what to cook. Malai kofta might be a good choice for this purpose. You can serve this cuisine with naans or jeera rice or even plain rice too.
Ingredients
1. 1 large boiled and peeled potato
2. 8 ounces of pannier
3. 1/3 cup of green peas
4. 1 shredded carrot
5. 5 pieces of chopped cilantro
6. ¼ cup of chopped golden raisins
7. Cooking spray
8. 2 tablespoons of oil
9. 3 pieces of medium size chopped onions
10. 2 Cups of tomato pest
11. 1 tablespoon of crushed ginger/garlic
12. Salt, as required
13. Sugar, as required
14. 1 tablespoon of garam masala
15. 2 teaspoons of coriander powder
16. 1 teaspoon of cumin powder
17.1/2 teaspoon of chaat masala
18. ¼ tablespoons of turmeric powder
19. Red chili powder, as required
20. 5 ounces of evaporated milk
21. Milk, as require
22. 1 cup boiled mixed vegetables such as carrots, beans, peas, sweet corn etc.
23. ½ cup of chopped coriander leaves
Process
Generally Maiai kofta is made in two different stages. First, you need to prepare the kofta separately then you must make the gravy. Finally, you have to add the koftas into the gravy. Here the method of the making the gravy is discussed first:
1. Put some oil into a medium sized frying pan and heat the oil over high flame. Add onions and salt into the pan and toss until the fragrant evaporates. Add ginger and garlic and cook for at least two minutes.
2. Next, add tomato paste and cook until the mixture become well blended. Add turmeric power, cumin powder, coriander powder, red chili powder and garam masala and mix it well.
3. In the mean time, prepare a mixture of evaporated milk and skimmed milk in a different pot. Put the mixture of milk into the frying pan and blend it well. Add little bit of sugar and salt as require. Cook the mixture for at least five to seven minutes over medium flame. If the gravy becomes too thick then you must add little bit of water for making the gravy a bit diluted.
4. Once the gravy is ready switch off the flame and add some chopped coriander leaves over the gravy as garnishing.
Now, described here is the process of making the koftas:
1. Bring a microwave proof bowl. Put carrot, peas, along with two to three tablespoons of water into the bowl and cook it for at least four to five minutes over medium heat. Drain out the excess water from the above mixture.
2. Next, process the paneer or the cottage cheese. Put boiled potatoes and boiled mixed vegetables into the food processor and blend well. Once the mixture becomes a dough then remove the mixture paste from the food processor and place it into another bowl.
3. Next , add cooked peas and carrots along with cilantro, golden raisins, salt as required, coriander powder, cumin powder and chaat masala into the bowl. Add processed paneer and mix the entire ingredients well. Prepare small sized balls with this mixture and place them in another tray. Take a frying pan and put some oil.
4. Next , fry the balls one by one over medium flame until they become golden brown. Now, kofta balls are ready.
5. Next, bring a casserole or microwave proof bowl and place the koftas into the casserole or bowl. Then cover the koftas with the gravy and garnish with cashews and raisins. Finally, cover the casserole or bowl and bake in the oven at 300 degrees (F) for at least 15 to 20 minutes.
Why you should try it?
The best part of the malai kofta is that you will never find huge quantity of oil or butter in this recipe, which is very harmful for people, especially the children. Moreover, vegetable is the main ingredient of this dish, which is good for health. Malai kofta might be known as one of the spicy Indian curries, but it is easy to digest too because you there is no ingredient in it which is difficult to digest. Moreover, this is the best choice for those who love to eat vegetarian dishes. It is also easy to cook too. Thus, malai kofta might be the right choice for you which you can prepare in your home occasionally.