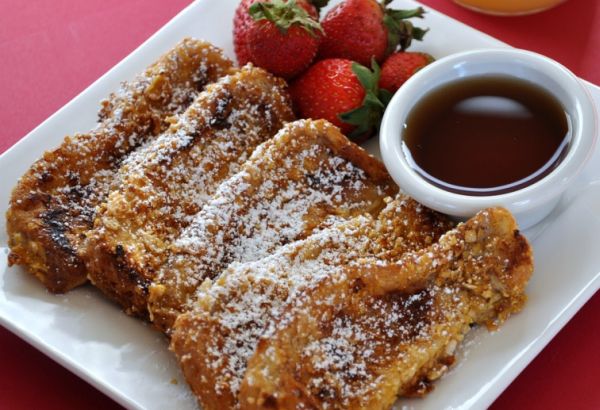 French Toast is a breakfast that is usually made with bread, milk and eggs. It has its patronage in various parts of the world. It is a popular desert made during Christmas time in Brazil and Portugal. It is also known as Poor Knights or Eggy bread. To make this, a bread is first dipped in a sweet mixture and then fried or roasted as desired.
The French Toast Sticks recipe is quite a simple one. All you need is a loaf of bread, some milk, eggs, butter, sugar, resins, almonds and cinnamon. All the ingredients are easily available at any grocery store. You will not take more than half an hour to make French Toast Sticks at home. Moreover, they can be easily frozen and used later.
Here are the ingredients for the recipe:
1 loaf of sandwich bread
1 tablespoon of melted butter
3 eggs
1 tablespoon of sugar
1/2 a teaspoon of cinnamon
1 cup of milk
1/2 cup of soaked resins
1/2 cup of soaked and crushed almonds
To make the sticks, first slice the bread into sticks of width one inch each and keep them aside. Now preheat the oven at about 175 degree Celsius for 10 minutes. In the meanwhile, mix in the sugar, milk, eggs, cinnamon and butter in a container. Whip the mixture for about 5 minutes. Now take a non-stick baking tray or a non-stick baking paper on a tray. Dip the bread-sticks in the batter and place them on the tray. Place the resins and the almonds on each of the sticks. Keep the tray in the oven and bake for about 15-20 minutes at 200 degree Celsius.
As the bread turns brown and crisp, take the bread sticks out of the oven and serve hot. You can alternatively deep freeze the bread sticks by placing the tray in the freezer. The frozen sticks can be had later, either cold or after reheating.
For the bread loaf recipe you could use the following ingredients:
1 1/8 cups of water
1 tablespoon of refined cooking oil
3/4 teaspoon of salt
1 teaspoon of refined sugar
3 cups of white/brown flour
2 teaspoons of yeast
The loaf of bread can be easily baked by using the above ingredients. Just mix all the ingredients well to form a semi-solid batter. Whip it for about 10 minutes and then keep it aside for another 10 minutes at a warm place. Now in a shape of a loaf bake it in the oven for half an hour at about 175 degree Celsius. You could alternatively buy your choice of loaf from the market.
The French Toast Sticks can be had as a desert, any time of the day. It is a very healthy breakfast, enjoyed with fresh fruit juice. You could also add some honey or fresh cream on top, to make the recipe more interesting. You could even add your choice of flavors in the egg mixture, say vanilla or any of your favorites. Children usually love French Bread Sticks for breakfast. You can also use healthier ingredients like fruit toppings and brown bread.
Hope you enjoy the French Toast Sticks!