Meatballs are a special dish prepared from chopped meat rolled into small balls. Beef is the common meat used to prepare a meatball. At times spices, breadcrumbs, onions, eggs, cranberry, apple etc. are used along with meat to make the meatball more tasty and unconventional. Meatballs are prepared by rolling the meat by hands and later fried, baked, or steamed with sauce to get a complete tasty dish. The origin and history of meatballs is not yet clear. But it is believed that it might be originated somewhere in Rome as in many Roman recipe books it has been mentioned. In middle east and India, it is called as koftas. These meatballs are also popular and rampantly cooked in Belgium, Arab, Austria, Bulgaria, China, Germany, Greece, Hungary, Indonesia, Italy.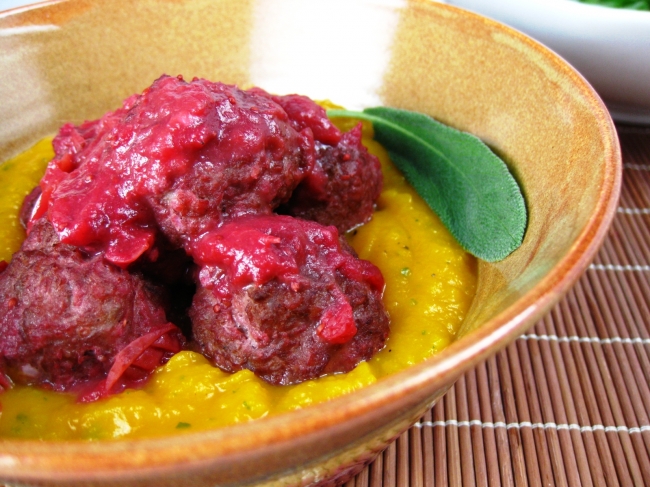 Complexity level: Moderate
Time taken: 60 minutes at best
Ingredients:
The ingredients needed for this recipe can be divided into two parts. Such as Cranberry glaze ingredients and Meatball ingredients.
a. Cranberry glaze ingredients:
1 cup water
1 cup Sugar
1 tea spoon orange zest
1 tea spoon minced ginger
2 tea spoons apple cedar vinegar or white vinegar
12 ounce bag of fresh Cranberries
cayenne
Salt per taste
b. Meatball ingredients:
2 large slices of white bread made small pieces
Salt
1 egg
1/4 pounds of ground turkey
1/2 teaspoons of dried thyme
1 teaspoon kosher salt
1/4 cup of Ricotta cheese
2 tablespoon milk
Floor
Vegetable oil
1 teaspoon fennel seeds
Process:
a. First of all the cranberry glaze needs to be prepared. To prepare the cranberry glaze mix all the glaze ingredients.
b. Put the cayenne in a small bowl for later use.
c. Mix the ingredients well and put them on stove in a simmer.
d. Cook until all the cranberries burst. It would take around 15 minutes for the same.
e. Mix the mixture by pressing it with a fine mess strainer in a bowl.
f. Now add cayenne to taste.
g. While the cranberries are on the stove, prepare the meatballs.
h. Take a bowl to put the torn bread in it.
i. Add milk to the bread by sprinkling it on the bread pieces.
j. Use a fork to crush the bread pieces.
k. Put the egg and the ricotta in a small bowl.
l. By using the fork mix them by initiating a whipping motion in it.
m. Keep it doing until the mixture becomes smooth and both ingredients are mixed completely.
n. Add thyme, salt, ground turkey, milk sprinkled bread, fennel seeds to the mixture.
o. Mix them with the hands until all ingredients are used in it.
p. Prepare small meatballs of around 1 inch width out of the mixture made.
q. After preparing the meatballs, place them in a baking sheet if it needs to be baked.
r. Put the meatballs on a large plate if these need to be fried.
s. Put a pan on stove and add oil in it to be heated.
t. After the oil is heated in a medium heat, put the meatballs in it.
u. Fry them until they look brown.
v. If the meatballs are found wet, some flour can be sprinkled on them to remove wetness.
w. Add the strained glaze to the meatballs in the pan.
x. Let it be cooked for some 5 minutes until the glaze reduces in quantity.
y. Replace the meatballs to a serving dish and pour the remaining glaze in it.
z. Finally, the Cranberry Glazed Turkey Meatball is prepared.