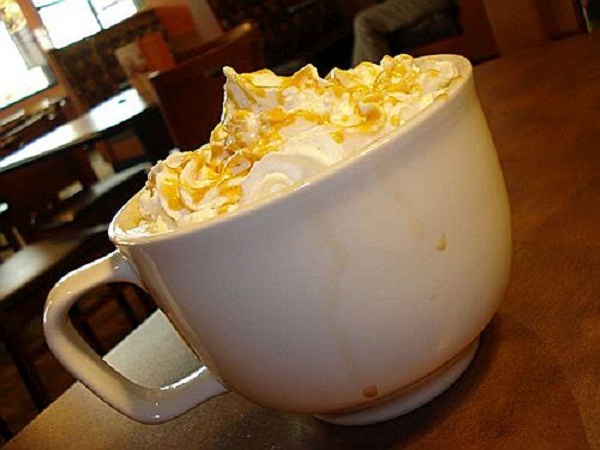 A drink we all love to sip during the harvest season. It is a great flavor of the fall months and loves by everyone on the chilly Halloween evenings. This drinks really warms you up and helps to beat the chill. Dole it out with cookies or pancakes. It is a great addition on your breakfast table. In the evening it can warm you up while the temperature outside drops. If you don't want to splurge in cafes every time you years for a pumpkin spiced cuppa this season – then learn how to make some yourself at home.
Name of the dish: Pumpkin spice latte
Complexity level: Easy
Time taken: 15 minutes
Ingredients:
Coffee
Water
Milk
Canned pumpkin
Pumpkin pie spice
Cinnamon
Nutmeg
Cloves
Vanilla extract
Sugar
Process:
Just buy pumpkin flavor that comes in a canned bottle and store in your home. Brew a pot of coffee, preferably extra strong one with a punch. You can also brew espresso. Start by preparing a pot of coffee. Just add water in a pot and place it on the stove at medium low heat to prepare the coffee.
Now take some milk and heat it in a saucepan. Make sure that it has simmered sufficiently for quite some time. Usually it takes about 5 minutes for the milk to heat up. Blend together some canned pumpkin seasoning and sugar. In one cup of milk about 1 tablespoon of canned pumpkin is enough. One cup of milk can make coffee for two easily. Add sugar as per your taste. Now after the milk begins to bubble remove it from the gas stove. Whisk the pumpkin mixture into the milk and them mix in the coffee in this blend. Lastly add in half a tablespoon of vanilla essence and about one fourth teaspoon of pumpkin pie spice in a cup of milk.
You can make yet another spicy blend with a hint of pumpkin for your latte. Puree pumpkin with cinnamon, nutmeg and cloves. To one cup of milk add in one fourth teaspoon cinnamon and a mere dusting of cinnamon and nutmeg. A dusting would be one eighth tea spoon of spices when they are powdered or ground.
Tips:
You can season it further with other add ons. Whipped cream is a must for kids. While, powdered cinnamon would be much better liked by grown ups. For a really complex flavor, add both whipped cream and cinnamon powder. If you are health conscious, then add in brown sugar or sugar substitutes.