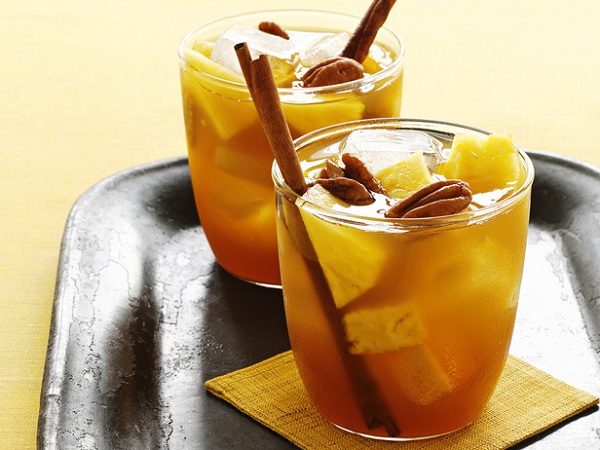 A portmanteau for breakfast and lunch, brunch is the late morning lunch for Sunday lovers. Usually, Sundays mean late rising and lazy mornings. Brunch is a loaded option where you get to eat a complete meal right from morning tea to appetizers to main course dishes to creamy desserts. An important part of brunch is its drinks. It is very important to correctly select a brunch drink as that sets the mood for the whole eat-out. Popular cocktails as Bloody Mary, Mojito hold special place as brunch drinks, but the new kid on the block is Pumpkin punch with cinnamon-infused rum. Give it a try. It's bound to make your Sundays delightful.
Complexity level: Easy
Time taken: 30 minutes
Ingredients
1. 2 cups preferably dark brown sugar (In case you don't find dark brown sugar, normal brown sugar can also be used.)
2. 4, 1 inch cinnamon sticks
3. 10 ounces pure pumpkin puree
4. 2 lemons
5. A splash of rum
6. Pineapple chunks or pecans, for serving (optional)
7. Ice block or ice cubes
8. A pinch of nutmeg powder
9. Angostura bitters for serving
Process
1. Pour the rum, the dark brown sugar and all the cinnamon sticks in a large heavy bottomed saucepan. Bring this mixture to a boil on medium heat, stirring constantly till the sugar melts. Remove from heat and add the pumpkin puree. Put it back on heat and simmer it.
2. In the meantime, remove the zest from the lemons carefully using a vegetable peeler. Grate the zest of the lemon finely. Add the grated zest to the mixture on heat. Mix a bit and turn off the heat. Remove it from heat and set aside to cool. Then refrigerate for about 2 to 3 hours the mixture till it turns cold and it would be best if it is chilled. The pumpkin pulp will settle at the bottom of the mixture.
2. Ladle the liquid in small proportions into a fine strainer set over a pitcher to strain out all the lemon zest and pumpkin extracts. After straining, discard the pumpkin pulp and lemon zest and any other extract if any, barring cinnamon sticks. Put the cinnamon sticks back to the punch and again refrigerate till chilled.
3. Pour the liquid into ice-filled glasses. Add rum, pineapples or pecans. Sprinkle a pinch of nutmeg powder on the top. Serve chilled with angostura bitters. Your pumpkin punch with cinnamon rum is ready! Say cheers!
Tips
1. It's better if you refrigerate the drink before serving as it is enjoyed best when chilled.
2. Serving options can differ from angostura bitters to chocolate chip pudding.
3. Cinnamon rum, can be used ready made, if desired and available in the market.
4. Lemon zest is discarded to prevent your punch taste bitter.