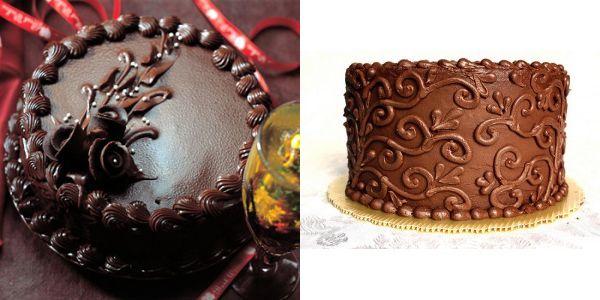 Name of the dish – Eggless chocolate truffle cake
Introduction
If you don't eat cake because of egg in it, then you should not hide your temptation for cake. You can easily prepare your chocolate truffle cake without egg. It is one of the most delicious cakes, which everyone loves. The specialty of this cake is that it has a soft and moist texture. Chocolate chips and chocolate frosting make it more yummy and tempting. Let us see how you can prepare eggless chocolate truffle cake following some simple steps.
Complexity Level – Easy
Time taken
Preparation time – 30 minutes, baking time – 30-40 minutes.
Ingredients
Cocoa powder – 2-3 tablespoons
Baking powder – 2 tablespoons
Corn flour- 3 tablespoons
Flour – 2 cups
Vanilla powder – 1-2 tablespoon
Salt – 1 tablespoon
Milk – 4 tablespoons
Yogurt (optional) – 200 gm
Castor sugar or normal sugar – 1 cup
Walnuts crushed – ½ cup
Cream cheese – 3 tablespoons
Butter – 5 tablespoons
Chocolate paste – 8 tablespoons
Chocolate chips – 3-4 tablespoons
Coconut desiccated (optional) – 4 tablespoons
Almonds (crushed) – 5-6 tablespoons
Chocolate sauce – 1-2 tablespoons
Process
Sieve flour, cocoa powder, salt, baking powder, vanilla powder and corn flour in a bowl. Mix well and keep it aside. Mix cream cheese, butter, ghee (optional) and milk in a bowl or mixer. Beat it for 4-5 minutes till the mixture becomes fluffy and light. Add sugar and beat well till the sugar becomes completely dissolved in it. If you are adding yogurt in it, then add it and mix well for 3-4 minutes. Now start adding flour in it. Do not add complete flour at the same time. Add flour in small batches to prevent lumps. Mix well. Add crushed walnuts and mix for 2-3 minutes. Now preheat the oven to 180 degree Celsius. Take a baking pan and grease its inner side with butter. Place a butter part at the bottom of baking pan. This will prevent the cake to stick from bottom. Put the baking pan in oven and let it cook for 30-35 minutes. Put a knife in cake. If it comes clean, then it means cake is cooked. Let the cake cool down and then remove it from pan using knife. Spread the castor sugar over the cake. Melt chocolate paste and butter in oven and mix them. Spread this mixture over the cake using knife or spoon. Spread the crushed almonds and walnuts over it. Pour some chocolate sauce over it.
Tips
1. Pumpkin seeds can also be used instead of almonds.
2. Instead of milk and ghee, you can use condensed milk.
3. Remove the cake from pan when it becomes cool.
4. To check whether the cake has been cooked or not, insert a tooth pick in cake. If it comes clean, then this means that cake is cooked.
5. Desiccated coconut can be spread over the cake to make it tastier.
6. Spread the chocolate chips over the cake when served.