Thai tuna soup is quite popular because of its balance of spicy, sweet, salty and sour flavor. It is generally prepared in winters to give warmth to the body and is effective in flu or cold. You can take it as an appetizer or can take it with noodles or rice. If you are a vegetarian then you can prepare Veg Thai tuna soup with cabbage and if you are a lover of non veg soup then you can prepare Thai tuna soup with chicken breast. Both of its veg and non veg versions are popular.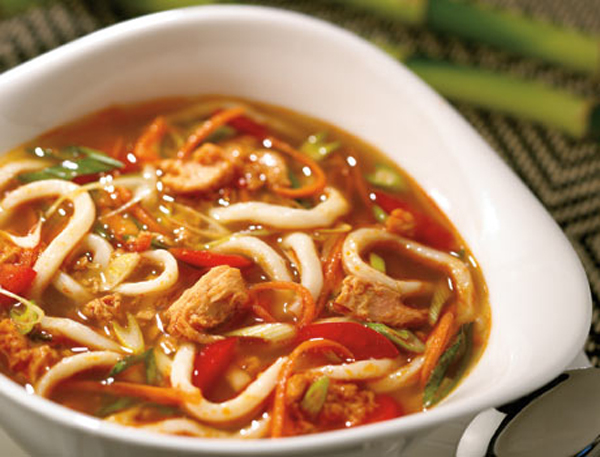 Complexity level: Moderate
Time taken: Preparation time: 10-15 minutes, cooking time: 10 minutes
Ingredients
Tuna: 1 can (with oil or water)
Noodles (with seasoning): 1 pack
Chinese cabbage: 1/2 cup
Celery: 1 cup (finely chopped)
Green onions: 1 cup (chopped)
Soya sauce: 4 tablespoon
Minced Garlic: 1 tablespoon
Tabasco sauce: 2 tablespoon
Celery salt: 1 tablespoon
Onion powder: 1 tablespoon
Parsley: 3-4 tablespoon or ¼ cup
Salt: According to taste
Water: 2-3 cup
Process
1. Take a bunch of Chinese cabbage and cut it into half. Chop the half bunch and keep aside. Take celery leaves and finely chop them. Take green onions and cut their roots. Finely chop the remaining green onions.
2. Take a pan and boil 2-3 cups of water in it. Now add noodles seasoning in it.
3. Add celery salt, onion powder, soya sauce, parsley flakes, and Tabasco sauce.
4. Now add one can of tuna into this boiling water. If tuna comes with oil then put the tuna pieces into normal water and then add it in boiling water. This will remove excess oil from them. Stir well.
5. Now add chopped cabbage, celery, noodles and stir well. Turn off the heat. Allow the noodles to cook in boiling water.
6. When the noodles become soft, add salt according to taste. Sprinkle some onion powder, parsley flakes, and chopped green onions before serving. Serve hot with noodles or rice.
Thai tuna soup with chicken breast
1. Cut the chicken breast into small pieces. Mince some garlic.
2. Now in a pan add chopped onions, chicken and chopped celery and stir them.
3. Now add water. Add noodles seasoning and other spices like onion powder, and celery salt.
4. When water comes to boil, add noodles and let it soften.
5. Rest process is same as simple Thai tuna soup.
6. You can also add mushroom into this soup. Finely chop the mushrooms. Add it in pan with chopped onions, chicken breast and chopped celery.
Tips
1. If you want to make this soup spicy then increase the quantity of soya sauce, Tabasco sauce, and onion powder.
2. Do not overcook the noodles. Turn off the heat after adding noodles. Overcooking will make the noodles mushy.
3. Add salt at the end as soya sauce contains salt.
4. Normal cabbage can also be used in place of Chinese cabbage.