The chicken and dumpling soup is a very popular dish in south and west United States. It is believed that it is a French-Canadian meal which originated during the Great Depression. Dumpling is a mixture of flour, shortening and water/milk. Chicken and dumpling soup is a dish of boiled chicken meat and a number of small dumplings. The dish has many international versions and is known by different names in different countries. In Chinese cuisine it is known as Chicken Wonton Soup and in Central Europe it is known as Gondi. This dish is very popular as it is healthy and low calorie. Modern versions have started replacing the chicken with beef or lamb but the original taste of chicken & dumpling soup is totally unparalleled.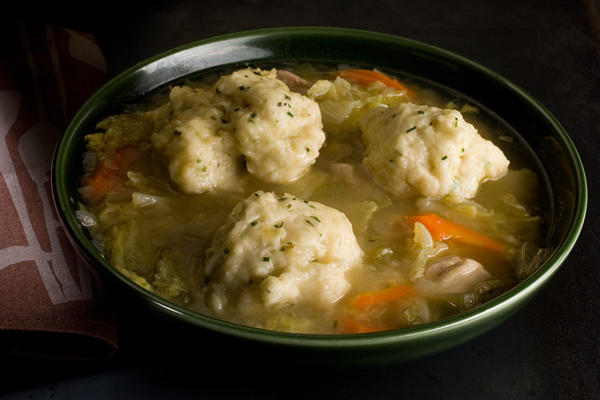 Complexity level
Moderate
Time taken
2 hrs and 50 mins which includes a preparation time of 30 mins.
Ingredients
Butter, unsalted 1 tbsp
Cloves of Garlic (minced) 4
Carrots 2, diced
Celery root 1 bulb, peeled and diced
Turnip 1 peeled and diced
Rutabaga 1 peeled and diced
Onion 1 diced
Bulb fennel 1 finely diced
Kosher salt
White wine 4 cups
Toasted fennel seeds 1 tbsp
Fresh thyme 4 sprigs
Bay leaves 2
Organic chicken 2 1/2 pounds
Milk 1 cup
Chicken fat 1/2 cup
Tarragon 2 tbsp, chopped
Ground nutmeg 1/2 tsp
Freshly ground pepper
Flour 1 1/4th cup
Eggs 3
Chopped fresh parsley 1 tbsp
Process:
First take a pot and place it over medium heat and melt the butter. Now add the garlic, carrots, celery root, turnip, rutabaga, onion, diced fennel and a pinch of salt. Cook this till the vegetables become tender for about 5 min.
The next step would be to add the wine, 6 cups of water, fennel seeds, thyme and bay leaves and cook on simmer. Then add the chicken and cook on low flame for a couple of hours. Now remove the chicken and wait till it cools down. Now cut the chicken into small shreds and set it aside.
Before the chicken had started simmering you must get started with the dumplings. You need to combine milk, chicken fat, tarragon, salt, pepper and nutmeg in a medium sized pan and put it on medium heat. Let it simmer. Gently remove it from the flame and add the flour. Stir continuously using a wooden spoon and wait till the liquid is absorbed. Now add the eggs, one at a time, to prepare a thick dough.
Now set the soup on the boiling flame. Make 8 dumplings from the dough and drop them into the soup. Cover the pan and cook till the dumplings start floating on the surface. This will take about 10 min.
Now add into the soup chicken meat, parsley and 1 tbsp tarragon. Stir continuously. Divide the soup among different bowls and serve hot.
Tips:
The amount of ingredients used here is sure to intimidate you. If you are first timer you can leave out some of the herbs but the taste will be better if you can add all the ingredients.