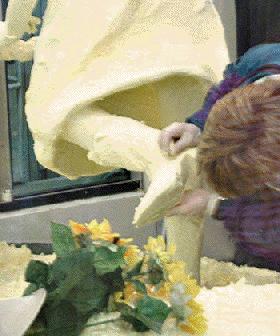 Table butter is carelessly placed in any occasion. What is the usual dining presentation? I have always noticed, the shapely cookies set in a pretty cookie basket; the elegant teapot set in the middle of the table, desserts standing proudly in elegant desert bowls…but the table butter always rests naked in a ordinary tray.
Your guests on the thanksgiving table tend to find this loose link and ignore this essential element on the table. But this Christmas you can make a style statement and take credits for your perfect dining presentation with the sculpted table butter.
Keller's Creamery has come up with this very innovative theme to make your butter noticed throughout the year. It has sculpted Lamb shaped butter for Easter, Turkey for Thanksgiving and Christmas tree for Christmas.
The Christmas tree butter is in the stores now, so hurry up and get your 4-oz butter tree at Keller's Creamery. Present it to your close ones or just place it on the dining table and get all the complements this festive season.