Ireland, EUROPE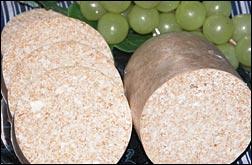 Enough of blood-black puddings and red morcillas, it is time for something more colorless, more solid and more like a pudding…without blood or any such thing that you would call as Yuck! Then why am I happy celebrating my Weird food in Europe with White Pudding? What if no blood, this traditional pudding, uses minced pork liver and oatmeal in white pudding.
Older versions of the white pudding included sheep's brain for binding the sausage. This famous white pudding is served for breakfast along with its relative blood pudding…I wonder why did they call the latter a black pudding when it is all red.
This white pudding is ironically rich in content, unlike its name. This pudding is traditionally made with rice, bread, pork liver, pork meat, suet, sugar, rose water, currants, and seasonings. The rice is boiled in milk, drained, and added to bread, currants, beef suet, caster sugar, rose water, mace, nutmeg, cinnamon, and salt. This mixture is then filled into sausage casings and boiled until done. It is sold pre-cooked and is paired with apples and when sold battered it is taken during supper.
The difference between black pudding and white one is obvious, except the fact that the previous one is weird in a superlative degree. I found it weird for the very pork meat in white pudding is served alongside pork offal in white pudding. Therefore, guys if you want to be a bit weird with it place your order straight away at Scottish Gourmet Foods and nibble your 1500g packet at £7.49.
White-pudding-at: Sausage Links