Kenya, Nigeria, SOUTH AFRICA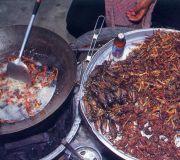 Have you ever preyed on termites? I have not, believe me it is weird. In Africa sexy termites, I mean the reproductive forms of termites are usually caught for food. Entomophagy or insect eating as called in sophisticated company reveals that the major varieties of edible insects in Africa includes, termites, locusts, grasshoppers, crickets, beetles, honey bees, moths and lakeflies.
What I am surprised is not the way of cooking but the way of collecting these insects for feast. An upturned tent made of branches and leaves is kept on top of the termite's hole and all other holes of the termites are clogged. This leads the termites to the tent where they are collected. The weirdest form of trapping insects is getting them in one place by a special drumming technique in Uganda.
However, Africans major diet is composed of variety of insects. Let us begin with termites. There are many ways of cooking termites. In Enzaro village, Maragoli, it is popular to lightly fry the termites in their own fat over a low heat, add a little, salt and sometimes remove the wings. In Kwara state, Nigeria the termites are roasted over a fire, sometimes hot coals or fried in a pot. After cooking, the wings are removed and salt is added to taste. The common usage of termites in African cuisine is that they are fried, roasted and eaten salted, or grounded into flour. The weirdest usage of termites that I have across was in Nigeria where stock cubes made from termites is available. Okay, this is unbelievable termites are so prized that they are gifted in prized occasions like marriages.
While Grasshoppers are roasted and ground into meal, baked into cakes; or dried and salted as a whole, some farmers eat the grasshoppers uncooked, after removing their guts. Locusts are eaten in Africa after removing their guts, they can be roasted and salted and can be ground like the grasshoppers to form a baked cake. Crickets are colleted from the soil tunnels, which they build and are gutted and eaten after roasting them over fire or hot coals.
Another most widely relished insect in Nigeria is the Weevil larva or the sago grubs. They are usually eaten in the sago festivals. This four inches long and two inches wide, mature larva and have a high fat content. Reported to be yummy, you might not go for it until you are assured of the fact that they are collected from the palm trees. As some grubs are also collected from the compost pit, they are gutted, washed and fried. Some people also eat it raw…I wonder how and why?
The Westwood larva is also eaten in Nigeria. It is called as Kanni and is collected from the sheabutter tree. It is boiled and dried in the sun before it is eaten. Kanni is widely used as an ingredient in vegetable soup in this region.
A mouthful of insects…that is how I would describe the ethnic experience of an African visitor.
Edible insects:jircas