Australia, OCEANIA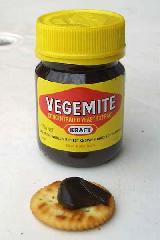 Butter, cheese and the likes of it are less known spreads in Australia. Vegemite is the favorite spread for sandwiches, rolls, and is used in Australian Barbie or 'barbecue'. This blackish-brown spread is made from brewer's yeast a by-product of beer and is blended with lots of salt, mineral salt, malt extract, natural color, vegetable extract, thiamine(E), riboflavin, niacin.
Vegemite was formulated by Fred Walker at his food processing plant in 1923. The chief scientist in the company Dr. Callister formulated the first Vegemite spread. He used the leftover brewer's yeast and blended the yeast extract with ingredients like celery, onion, salt, and a few secret ingredients to make this paste. In 1912, a national competition and a prize of 50 pounds were offered to the winner or winners to name the new product. The name 'Vegemite' was finally chosen from the entries by Fred's daughter Sheila.
This blackish extract is as thick as peanut butter and is very salty. This acquired taste makes it weird and unpalatable by many Kiwis and Americans. Vegemite is the main ingredient of the Cheesymite Roll, which is served as snack or lunch in the bakeries and unlike junk foods, this vegemite delicacy happens to be the favorite of Aussies. This semi-edible, spread, smelling like rancid seaweed is identified with Australia and is an integral part of Australian dining in breakfast, lunch, and dinner. Vegemite is in line with the concept if you want to eat, eat like an Australian. The lines "We're happy little Vegemites" depicts Australian-ness, as the concept of feeding Aussie children with Vegemite, comes from the early success of feeding the Australian troops with Vegemite in the World War II. Well this concept might seem weird as even the Aussies do not taste the yeasty paste until they are heavily drunk and want to get out of the hangover.
This semi-edible spread is manageable with a bread toast, as the high salt content is covered up on the piece of bread. Vegemite can also be blended with spring onion, sesame oil, garlic, honey and sherry and can be used as a marinade for chicken and beef barbecues.
Well Sheila could have given the etymology of the word Vegemite. Well may be she meant 'to enjoy'… something so salty, cool I will prepare the above recipe without salt…but think sucking it on the dummy…I am not a very obedient child and having it on the open, I am sorry I was quite drunk with sea water the other day, no hangovers.
There are many recipes that can be made out of Vegemite, if you want to try it out visit: Vegemite