France, EUROPE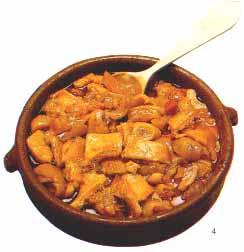 The European cuisine is obsessed with offal. I have just written a post on one and here I am with Tripe. Tripe is made from the first three linings of a cow's stomach. You call this edible offal! The three edible layers are the rumen (blanket/flat/smooth tripe), the reticulum (honeycomb and pocket tripe), and the oakum (book/bible/leaf tripe).
The honeycomb tripe is supposed to be commonly eaten because the inner side has a pattern similar to a honeycomb, the most inedible, later made edible is the plain or smooth tripe comes from the first stomach, includes bits of the stomach's last content, smells, and is supposedly very unappetizing for humans. Beef and pork tripes are also manufactured to make a variety of delicacies. Tripe is sauteed with onions, it is stewed and is used in soups. Patsas is made in Greek, tripes can be baked, broiled, and cooked with potatoes, parsley, and vegetable sauces.
You can pair almost anything edible with weird tripes, and mind you they are chewy enough.
Chew-tripes: Anna Maria