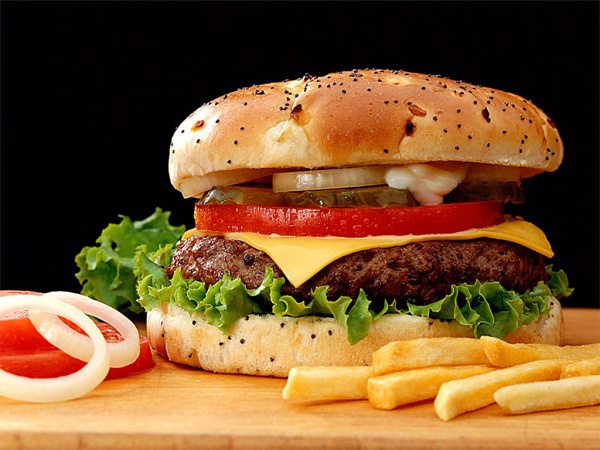 Fast food chains are having a tough time deciding whose burger is the hot favorite among customers. 'Burger war' has been on since quite some time now, with almost every leading fast food joint jumping into the ring, i.e., making burger. It has been noticed that burger is a top favorite of all snack lovers. So every fast food joint has made it business to make different kinds of burgers and woo consumers.
Some of the best known fast food burgers whose mention is enough to salivate your mouth are
1. The white castle burger
One of the earliest inventors of burgers, the White Castle company made locals acquainted with burger. The white castle burger since then has become a household name. Also, the burger is not known by its original name, it is named 'slider'. A wide variety of burgers are available in over a dozen flavors. So, it is up to you to choose one that suits you best.
2. Chicken-maharaja mac
A double filled burger from the house of the leaders of this business, McDonalds. This burger is a double sized burger that's got almost every ingredient in it. Creamy mayonnaise tangles with onion rings and flirts with lettuce bed. Spicy chicken patty finds its place among two sesame toasted bun slices. A real bait for every burger lover.
3. Burger King's Whopper
A sin for all diet freaks, the Whopper is a tasty, juicy burger flavored with bacon, beef, Swiss cheese, fresh herbs, all of which are laid on a crisp lettuce bed. Then it is covered with a generous dollop of mayonnaise to enhance the taste. All of these flavors mingle inside hot toasted fresh sesame bun rounds.
4. Wendy's bacon deluxe double
A premium flavored burger with juicy beef patty piled with smoked bacon slices. To add to the delight is American cheese slices, freshly made mayonnaise, and sweet and sour tomato ketchup. This burger has paved its way to people's hearts with its delightful taste and once-in-a while deluxe indulgence.
5. KFC tower zinger
Even Rapunzel's tower looks short in front of this. When it comes to tower zinger, every other snack looks mini shaped in front of it. The tower zinger is a XXL burger which has double layers of crispy chicken engulfed in juicy mayonnaise and a creamy slice of cheese is the junction point of the two heaped layers that's placed between golden roasted bun rounds.
6. Wendy's double cheese burger deluxe
This burger surely intends to do salsa with your taste buds. The double cheese mention is evident of how tasty the burger will be. With onion rings, tomato ketchup, mustard sauce, mayonnaise, jalapeno peppers, fresh tomato slices and not to forget double cheese, creamy cheese and cheese slice. Order it and a trip to heaven is guaranteed.
7. Burger King triple stacker
A mountain of delicious taste will stare at you to gulp it down. This happens when you order a Burger King triple stacker that's a never ending burger bonanza. The burger contains three beef patties, three cheese slices, three bacon slices and a whole lot of goodies as ketchup, lettuce, mustard, mayonnaise.