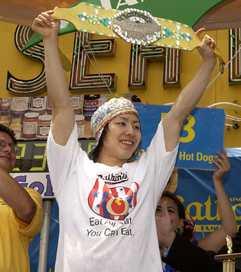 How long would a normal eater take to finish 57 cow brains, 69 hamburgers, 53 hot dogs, and 20 pounds rice ball? You might be thinking that I am listing out a week's menu, think again because I am talking of Takeru Kobayashi. He cleaned them off the plate in not more than one and a half hour. Takeru Kobayashi took the badge for a second time after creating waves in the eating community on 2003.
The contest was hosted by International Federation of Competitive Eating (I.F.O.C.E) in Coney Island where Kobayashi gorged into 44.5 hot dogs in just 12 minutes. I cannot believe this, if the picture of Kobayashi is not fake…he weighs only 132 pounds, may be with muscles.
Anyways, if he practices eating a lot within a stipulated time and on a regular basis, why is it that he is not an obese. As I will not be able to solve this mystery, I can only encourage you guys to fasten the pace at which you guys eat food, Take my word you can be eligible to join the eating community at I.F.O.C.E. If not anything else, you might be saving a lot of time, for other constructive work.