Breakfast is the most important meal of the day. So, goes the saying. Though there are many food items which can be had for breakfast that are available all over the world, but there is nothing like Indian food. It's the best food on earth. Breakfast or 'Nashta' as it is known, eaten all over India varies from region to region. Made from easily available ingredients, they are not only lip smackingly tasty, quick and easy to cook, light on your tummy but most of all, nutritious and healthy, and gives you the energy required for the day.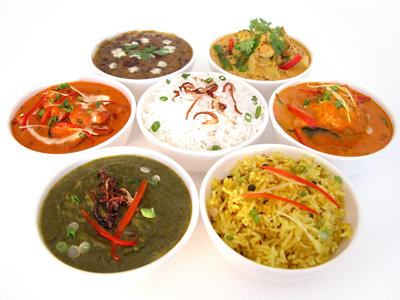 Here are an assortment of lip smacking Indian breakfast recipes brought together to give you a yummy, delightful experience of your lifetime.
1. Dhokla
This is a traditional Gujarati snack that is served for breakfast. It is an awesome steamed savory cake made from chickpea flour and tempered with mustard seeds and slit green chillies. Served with tamarind and mint coriander Chutneys this highly nutritious snack from Gujarat in Western India is a huge hit among dieters and is now popular all over the country.
2. Idly
No longer just a South Indian favorite, Idlis are made, tasted, ordered and loved and can be found, just about anywhere in India. Have a try and you will see why its become the most sought after breakfast! Recommended by dieticians, it is a huge hit among dieters because this recipe is steamed not fried. Made from rice flour and black gram dal, it is light on your tummy.
3. Upma
Upma is the universal hot favorite choice for breakfast in India. Originally from South India, this tasty dish is now famous all over India. Made from wheat semolina, it is always served piping hot and is so wholesome you can even make a meal of it!
4. Poha
A favorite choice of breakfast for many Indians, Poha is made from flattened rice. It is very a quick and easy to make recipe that is not only delicious but also highly nutritious. To add an extra zing to Poha, serve it with Mint Coriander Chutney!
5. Sabudana Khichdi
A Maharashtrian dish made from Sago (Tapioca), this is simply an awesome breakfast that is mildly spiced, potato and peanuts which gives it a light crunch. It not only tastes delicious but it is also highly nutritious and a great gluten free dish.
6. Missi Roti
Another variation of roti, it is flat unleavened bread that is not only delicious but also very highly nutritious breakfast that is rich in carbohydrates, proteins and fiber; especially for diabetic people. Made from a combination of flours like gram flour and wheat flour and seasoned with different spices, it is a most sought after and most eaten breakfast as it is less in calories.
7. Methi Parantha
This is a highly popular breakfast preferred and eaten by many. This is a sure shot antidote for anemia. Made from wheat flour and chopped fenugreek leaves. Fenugreek leaves are wonder herbs; nature's boon which are rich in protein, calcium, iron, phosphorus, potassium, Vitamin C and K. It has a nice aroma and are also rich in fiber.