The origin: Vietnam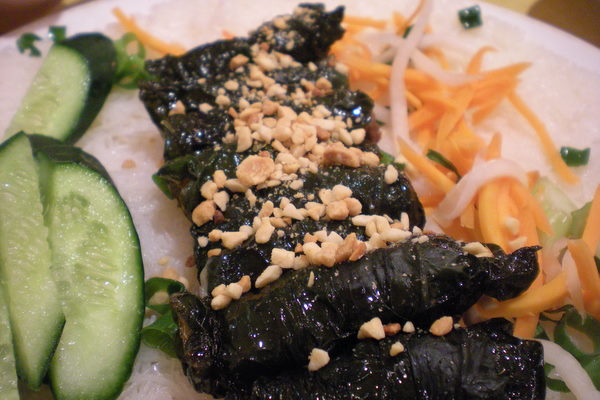 The cuisine: Bo la lot – Betel leaf wrapped beef
'Bo la lot' is a cuisine served either – as a part of seven course beef meal or on its own as an appetizer. This cuisine starts with wrapping beef in betel leaves. However, as the name suggests, beef has to be wrapped in 'la lot' or 'piper sarmentosum', a special variety of betel leaves which has cultural significance in Vietnam. This special variety of betel is also called as 'wild betel'. After wrapping beef in la lot or piper sarmentosum, it is placed over charcoal flame until it gets grilled.
As an appetizer, it gets served with bun which is wrapped in lettuce and in rice paper. This Vietnamese delicacy once grilled gives slightly peppery and herbaceous taste to the beef. The flavor sinks into the beef's juice, thus making this delicacy taste uniquely authentic. One can prefer to make a choice of choosing chicken or pork instead of beef. Generally, more the juice in the meat, the better it tastes. Although, in my opinion, beef is a preferred meat in this cuisine, one can also opt for combination of all three: beef, chicken and pork.
Ingredients
One lbs of ground beef (or in case of combination of meats, you can make one and a half beef and pork or one and a half beef and chicken)
One and a half tablespoon of minced garlic (finely minced)
One and a half tablespoon of minced shallots (finely minced)
One tablespoon of curry powder
Two teaspoons of fish sauce
Two tablespoons of chopped lemon grass
Two teaspoons of sugar
One and a half teaspoon of salt
One teaspoon of cracked pepper
Three tablespoons of roasted peanuts, coarsely chopped
One package of fresh or frozen betel leaves (if betel leaves are not available, one can use perilla leaves. If you are using frozen betel leaves, then allow them to defrost outside, after which separate leaves and allow them to slightly dry on paper towels before wrapping)
Four tablespoons of scallion oil (heat 4 tablespoons of olive oil, remove from heat and add finely chopped scallions)
Process
'Bo la lot' may be very easy on the tongue, engulfing your taste buds with its succulent taste. However, the process requires one to follow variety of directions, which are discussed in the following.
How to prepare the mince
First, select smallest leaves from among betel leaves. Mince the shallots finely (semi-dry the mince by removing excess liquid). Along with the shallots, garlic and lemon grass stalk, put the betel leaves in a mixer to make a fine mince of them (spice mixture). Combine this mixture with all the other items (everything as listed in ingredients), except large betel leaves, in a large bowl. Mix all these thoroughly.
How to place betel leaves
Leaving only 1 cm of stem attached to the large betel leaf, place the betel leaves with its shiny side underneath with stem at the top. Leave 1 cm gap on either side of the leaf as you place 1 tablespoon of beef on the leaf just below its center. Roll the pointed end of the leaf upward to make a tight roll. Make a hole through the leaf by a wooden skewer. Enclose the filling by pushing loose ends of leaf, so as to stuff it tightly.
Then, place the 'bo la lot' on pan for 2 minutes to sauté. Sauté on either sides (2 minutes each side). Next, transfer the same onto a grill over a charcoal flame. Grill for 2 minutes each side.
Bo la Lot can be served as an appetizer or along with seven course beef meal.
As an appetizer: Sprinkle spring onions and peanuts over stack of bo la lot placed in large bowl, one placed over the other. Serve it as an appetizer with nuoc cham sauce.
As one of main course beef meals: For this, bo la lot has to be placed on bowl filled with cold rice, vermicelli sprinkled with spring onion oil. Sprinkle peanuts and nuoc cham sauce over it and serve.
Why you should try it?
The precise dish is not an ordinary food item for the food lovers and those who love beef dishes, so make sure you do not miss the chance to taste this one. There is no doubt that it will let you have some delicious as well as exceptional taste of beef rolls.