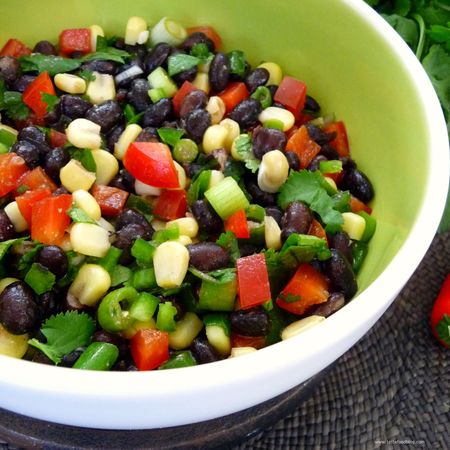 Appetizers! They are the most attractive and yummy things you would find on your table when you enter a Greek restaurant, as they play an important role in any Greek menu. Usually, appetizers consist of dips, spreads and salads. The most common and popular Greek appetizers have many things in common, like, they all share the nature of being spicy and salty which makes them interesting to have with the starters. These Greek appetizers are made in such a way that they go along easily with Ouzo! This is the most popular drink which every man would like to have a shot at when in Greece! According to the people in Greek, these appetizers are placed at the center of the table and are to be shared by everyone sitting around. Slow eating of these appetizers increases the joy of eating them. The main purpose of such appetizers is to make drinking easier.
Here are few such most common and popular Greek appetizers which would make your meal complete and interesting.
1. Melitzanosalata – eggplant salad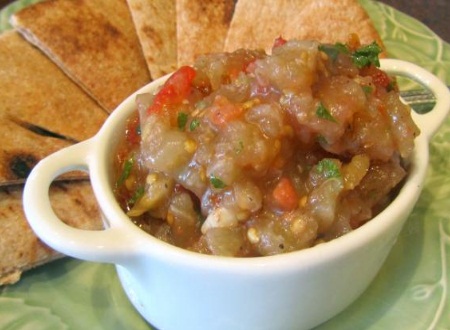 The Melitzanosalata is a Greek appetizer which is made out of Italian eggplant in combination with various ingredients such as garlic, extra virgin olive oil, flat leaf parsley, lemon juice and salt. This salad is mostly prepared on a BBQ or you might need a gas grill or it could even be prepared on charcoal. In addition to that, you will need a mortar and pestle. It is one of those difficult dishes to prepare which gives us a sign that if any restaurant prepares it, then it is maintaining the quality of food and service. The BBQ is used for roasting the skin of eggplant and thus, giving it a smoky flavor. The mash of the eggplant, in combination with the garlic clove, makes the dish even more appetizing. Use of olive oil gives the salad a rich flavor and taste.
2. Tzatziki – yogurt dip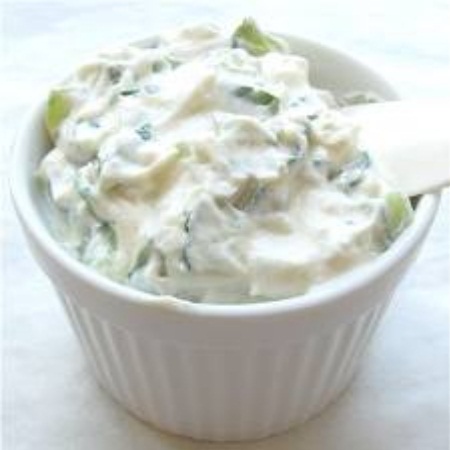 The Tzatziki is a creamy and cool yoghurt dip which is made out of tangy cucumber flavor with a hint of garlic added to it. It is a perfect complement to dishes made of grilled meats and vegetables. It is served with warm bread triangles for a yummy dipping. It takes almost 20 minutes to prepare this dip. It contains many flavors of olive oil, vinegar, garlic, pepper, sour cream, cucumbers and dill, which makes it interestingly appetizing. The addition of mint at the end dominates the unpleasant garlic smell tingling in your mouth, replacing it with fresh minty flavor.
3. Taramosalata – fish roe salad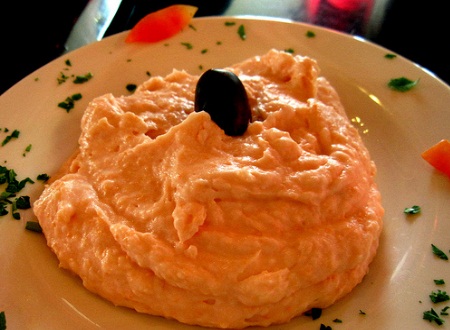 Taramosalata is a thick pink or white-colored puree made out of fish ore. The word Taramosalata represents Taramo – fish roe and salata – salad. The color of the salad totally depends on the type of fish ore we prefer along with the bread crumbs, lemon juice and oil. In some special cases, the mashed potato is replaced with breadcrumbs. It is prepared with potatoes, French bread, shredded and dried onions, corn oil and lemon juice. Greeks enjoy the Taramosalata during Lent.
4. Spicy cheese spread – Tirokafteri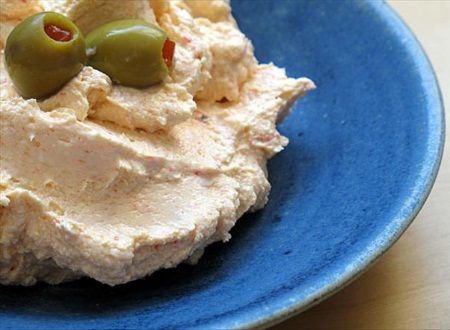 The appetizer Tirokafteri is a cheese spread, which is usually made from feta cheese but it can also be made from any type of cheese. This dip is a very spicy dip and the ingredients used in it to make it spicy are, hot peppers, vinegar, oregano and olive oil, combined with cheese. This dip can be preserved in the fridge for at-most 5 days from the day of preparation.
5. Keftedes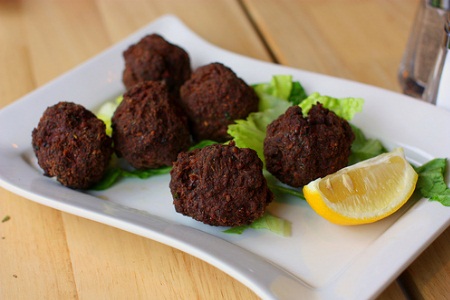 Keftedes is usually a meat ball recipe. It takes around one hour for preparation. Small balls are made with minced pork, lamb or veal, onion, herbs and eggs (and sometimes the drink, ouzo! as a moistener). Keftedes is prepared with meat with addition of various ingredients such as white bread, milk, ground beef, onions, garlic, oregano, mint, vinegar, eggs, nutmeg, olive oil, flour for dusting, black peppers, pita bread and some cucumber yogurt sauce. All these ingredients combined together and thoroughly mixed, are made into balls and fried till they are completely brown, but not burnt! Keftedes make a wonderful appetizer which makes you enjoy your food and drinks immensely.
6. Fried cheese – Saganaki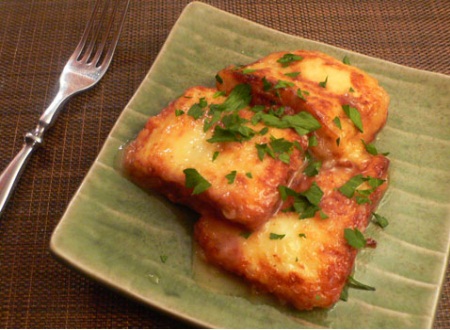 Saganaki is a pan-seared cheese appetizer. Saganaki is made from kasseri cheese, lemons, olive oil and flour for dredging. It takes at-most 25 minutes to prepare this dish. The key to get this dish proper is to have perfectly hot oil before it gets smoking. Saganaki's most common form, which is prepared in Greek restaurants, is a hard and shard form, cut into flat even squares. They are then coated with flour and fried on hot oil until they attain that crispy texture on the outside and soft texture in the centre of the cheese. Lastly, the lemon juice is squeezed on top of the fried cheese to make it taste even better.