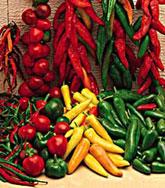 Mexican food is based on beans, chilies, and corn. This "fall season" Mexican cuisine is giving some real hot stuff with chilies. Chilies have been handed down to the Mexican cuisine by the Aztec community. It is estimated that there are over a hundred types of chillies in Mexico, but the ones most commonly used in Mexican cuisine are the jalapeno, serrano and poblano. While chilies can be stuffed, they can also be eaten raw or cooked and vary in pungency and colour. Salsa is the dip that brings life to all the Mexican dishes and is made of chopped tomatoes and jalapeno chilli peppers, with perhaps some added lime juice and chopped coriander.
Mexico is second worldwide in pepper production, with more than 140 varieties. Anaheim pepper is of special importance in Chihuahua, Mexico, where it is consumed mainly as a fresh product. Anaheim pepper's puree is used in traditional Mexican cuisine.
Some of the Mexican recipes that uses chillies as the main ingredient are Chiles con queso (Chiles with cheese), Chiles Rellenos (Chiles stuffed with cheese) , Mole Poblano (Turkey in a chile-nut sauce) , Chiles en Nogada (Stuffed chiles with walnut sauce),Papas y Chorizo (Potatoes with chorizo and chiles) Rajas (Peppers simmered in cream) and in other pickles and salsas.
If this list has made you hungry enogh for Mexican food then log on to www.whats4eats.com and download the hot recipe for the Fall New Mexican Feast this season… as more number of people are getting interested in ethnic cuisine this is sure to give them a good insight into the Mexican food.
Smoking-peppers-at:Chefs.com