A cocktail gift basket is a versatile gift for any taste. Whether you want to surprise your friend, your mom, or partner, keep in mind that you can't go wrong with a carefully curated cocktail assortment. Making your own personalized alcohol gift basket will make sure that the choice suits their needs and taste. In this post, we share some creative ideas on creating personalized gift baskets with their favourite drinks.
Gift basket ideas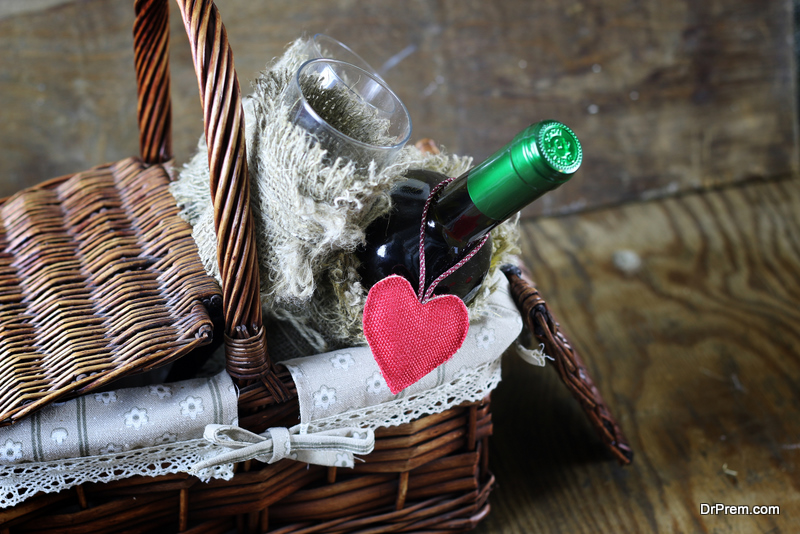 Before you go forward to get the essentials for the alcohol gift delivery, you need to decide about the theme. Here we give you a few ideas and inspirations:
Make a Martini alcohol gift basket with vodka and vermouth. Include olives, olive picks, and fresh lemons. Finish off with two martini glasses.
Add vodka and triple sec for kamikaze and Cosmopolitan starter kit. Add cranberry and lime juice to complete, and two glasses.
A Screwdriver and Bloody Mary set is another alternative. Add a bottle of vodka, orange juice, tomato juice, and aloof the species for Bloody Mary.
Recipe cards
If you want to gift an alcohol gift basket, make sure to include the proper recipes. These will give the basket a purpose and not look like you gifted them a few random things. Print out the recipe on a decorative card, and don't forget to include it in your gift.
Include additions and garnishes
A cocktail isn't complete without additions. The choice depends on the cocktail theme you will pick. Rimming sugar is a must for sweet drinks. However, don't forget to include garnishes. Add fresh citrus fruits for gin-based cocktails or maraschino cherries, depending on the cocktails. If you intend to make a dry martini kit, make sure to include olive picks. If you need to have fruit juices, always avoid the ones in cartons. Not that only they will contribute to a cluttered look, but they can also spill during transport. And you don't want your gift to be ruined on its way to the final destination.
Decorations
Your alcohol gift basket should contain proper decorations, such as coasters or tiny umbrellas. These small details make the whole arrangement look complete. Feel free to add homemade goods here.
Tools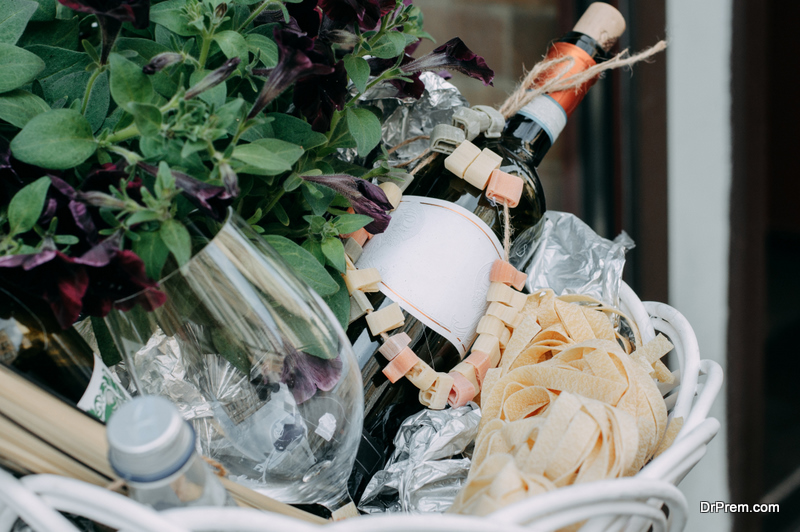 No cocktail shaking experience is complete without the right equipment. The ultimate must-have is a cocktail shaker. You can choose any design that stands out. Also, don't forget to include additional tools such as bar spoons and a measuring cup.
 Glasses
Don't forget to include proper glasses that go with the cocktail. Make sure to pick the right design that complements the drink type.
Include appetizers
Although appetizers aren't a must-have, they will undoubtedly define and complete your alcohol gift basket. Make sure to pick them accordingly to your liquor choice. A mix of acceptable cheese types is a good idea, paired with a combination of nuts. Other great ideas are dark chocolate, dried fruits, or crackers. For the ultimate curated look, don't leave them in their original plastic packaging. Place in glass jars or lovely paper bags for the aesthetic vibes.
Create your gift basket 
When you have gathered all of the basics, you need to arrange your gift basket properly. It would help if you made it visually pleasing and well-balanced. If you can't develop a good design, Drinkable Gifts has pre-made gifts for you to choose from. If you don't have enough time to plan it, you can obtain services from alcohol gift delivery.
Make sure to pick baskets that have needles for easy transport and alcohol gift delivery . To get started, add tissue paper to the bottom of your basket as a filler. Layer the items by placing the tallest ones last. Continue to build up and finish off with the smallest objects in the first row for the best visual interest.
Article Submitted By Community Writer