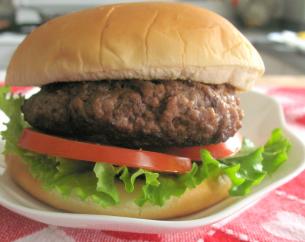 We all love Mc Donald's yummy burger with loads of cheese and mayonnaise. It can be taken as a snack or as a complete meal. A growing kid can afford the amount of fats and calories present in a burger to some extent. But an adult cannot have the fun of having burger everyday due to health reasons. Percentage of obesity is rising day by day. You won't believe but the data show that more than half of Americans are obese. Here are some of the yummy and mouth-watering burger recipes:
Making a Burger:
In the preparation of a burger, we need a patty, vegetables, mayonnaise and sauce. So, you can make your patty as healthy as you can. Remember use olive oil for making a patty because it contains fats in little amount. Always heat or roast hamburger buns in little butter before you keep patty inside it.
Making the Mayonnaise:
Prefer home made mayonnaise which can be made with little effort. It has no preservatives and very minimum calories. You can discard fresh cream and have hung curd instead. The ingredients require for it are:
1 cup Hung curd (low fat) or egg white
1cup fresh cream (low fat)
1teaspoon mustard sauce or mustard powder
1/2 teaspoon worcheshire sauce
¼ teaspoon vinegar
1 teaspoon white pepper powder
¼ teaspoon sugar
Salt.
Mix all the ingredients mentioned above. It is healthy and has no side effects. It can be preserved in fridge for a couple of days. You can add one teaspoon of grated cheese in it (optional).
1. Corn Oatmeal burger:
Make the patty with boiled oatmeal and corn kernels. Mash them well and add salt, black pepper, coriander leaves, chopped onion, carrot and capsicum. Mix them well and make a patty. Shallow fry it on a non stick pan with minimum amount of oil. Now spread mayonnaise on the bun place shredded cabbage also put onion, cucumber and tomato slices and corn oatmeal patty on it. Cover it with the other bun. You can put a slice of cheese in between. It's very healthy and has good nutritional value.
2. Tofu Burger:
Tofu is considered to have a lot of proteins and very low in fats. It is also a good substitute to a potato patty. Grate tofu and add vegetables of your choice. Add white pepper, coriander leaves and green chilly. For binding you will need a boiled mashed potato or you can add little corn flour. Make a patty and stuff in bun with mayonnaise. It tastes too good. Best choice for people who like cottage cheese burger.
3. Chickpea burger:
In this recipe boil chickpea and mashed them coarsely. Then add chopped onions, carrots, coriander, green chilly and capsicum. To make it spicy add garam masala ( herbs and spice powder), dried mango powder and salt to taste. For making a patty add all the ingredients with little gram flour in it ( helps in binding).
4. Portobella mushroom burger:
Take medium portabella mushrooms with stems removed and saute' them in olive oil. You can brush them with oil also if you want no extra calories. Keep them aside and put onion (cut into about half inch slices) in a heated pan with olive oil. Add avocado, low fat yogurt, half teaspoon of black pepper powder, minced garlic and salt to taste. Saute' them well. Keep this as stuffing in the cavity of mushroom. Keep the stuffed mushroom in the hamburger bun and relish it with tomato ketchup.
5. Black bean Burger:
Take about half chopped onion and saute' it in a pan with very little oil. Take a container and add a cup of black beans ( boiled and water removed properly), half cup of corn flour, one cup bread crumbs, one teaspoon garlic powder, some onion powder, seasoned salt, salt and pepper powder to taste. Mix them well and make patties about half inch in thickness. Fry it in very little amount of oil so that they become firm. Stuff it in the hamburger bun and relish it. It can be taken as a meal also because of it's nutritional value.