Gordon James Ramsay, the Scottish chef, restaurateur and television personality of International repute, lost out to Singapore Street hawkers on 7th July 2013 in a street food cook-off named as the "SingTel Hawker Heroes culinary challenge" at Newton Food Centre.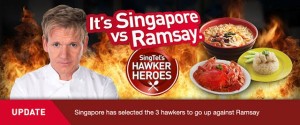 The Cook-off:
Though Gordon has mentioned previously that he wasn't an expert on Singaporean cuisine, he had accepted the cooking face-off with his usual aplomb.  He also added by saying that "I'm not sure if it's as good as Singaporeans actually say it is!"
The challenge was designed on the popular vote model, where the chef had to better three pre-determined dishes than the Singaporean hawker's decades of skill and experience.  The three veteran Singaporean Street food hawkers who Gordon Ramsay came against were Ang Kiam Meng of Jumbo Seafood Restaurant , Foo Kui Lian of Tian Tian Hainanese Chicken Rice and Ryan Koh of 328 Katong Laksa.
A public vote was used previously to select who out of the three Singaporean street food hawkers Ramsay would face-off against.
The event witnessed thousands of locals gathering up as early as 1am to queue up to taste the thousand portions which were offered on a first-cum-first-serve basis. Around 5000 locas gathered to participate in this 3 hour long 'people's choice' competition where Ramsay needed to deliver superior versions of chilli crab, chicken rice and laksa than the hawker's collective decades of experience.
The verdict:
According to popular vote, though Ramsay won the Chilli crab round, but lost out on the remaining two dishes of chicken rice and laksa.  While his noodles were stated to be a little too bloated, his laksa recipe suffered from his last minute decision change.
The 3000 votes cast by 1000 local public members via SMS gave the verdict of Ramsay beating Mr Ang Kiam Meng of Jumbo Seafood Restaurant by 5% but losing out to Mr Ryan Koh, of 328 Katong Laksa by 19 per cent and Madam Foo Kui Lian of Tian Tian Hainanese Chicken Rice by six per cent hence losing out the face-off by a total of 6%.
"It's humbling, it's really humbling. Forget the corporate stuff, forget the sponsors," said the 46 year foul mouthed world famous chef also adding that "What I'm taking home is a confirmation of how good hawker food is. I won three Michelin stars and they still kick my a**."