The origin: New Mexico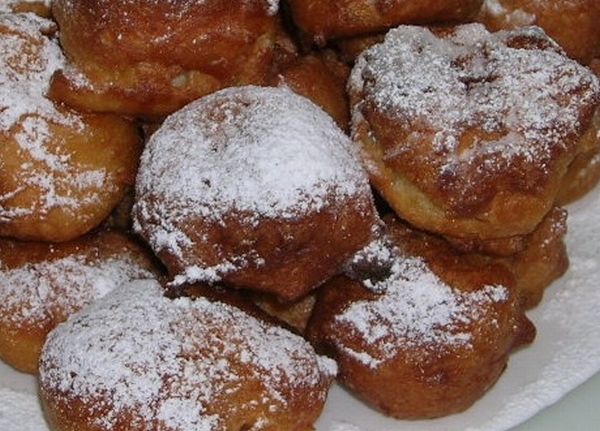 The cuisine: Buñuelos
Ingredients
1/4 cup of warm water (at about 105 to 110 degrees F)
1 package active dry yeast
1 tablespoons granulated sugar
7 tablespoons milk
1/4 teaspoon salt
2 tablespoons vegetable shortening
1-1/2 cup unbleached all-purpose flour
Vegetable oil for frying
Buñuelos are similar to doughnuts and can be finished off in various ways before you serve these tasty treats. You can even serve them just as they are. Here are some variations that can also be tried.
1. Sugared Buñuelos
Granulated sugar or powder ¼ cups
Ground cinnamon ½ teaspoon
Prepare the Buñuelos per the recipe.
Mix together cinnamon and sugar in a large bag. Place two to three Buñuelos in the mixture and close the bag, shake till each of the Buñuelos is coated entirely. Remove from the bag and enjoy.
2. Buñuelos in syrup
Dark brown sugar 2/3 cups (firmly packed)
Sweet wine ½ cup (Port or Madiera)
Water ½ cup
Ground cinnamon ½ teaspoon
Orange/lemon zest
Raisins 1/3 cup
Prepare the Buñuelos per the recipe.
In a large saucepan heat wine, sugar, water and cinnamon to a soft boil for about five minutes or until the mixture begins to thicken up a bit. Take off the saucepan from the heat and then add in the lemon/orange zest and raisins.
Place at a distance, each Buñuelos on a rimmed platter and pour over this syrup mixture. Allow the Buñuelos to soak the syrup for about a minute and serve.
3. Filled Buñuelos
Butter 2 tablespoons
Brown sugar 4 tablespoons (firmly packed)
Pine nuts or almonds 3 tablespoons
Ground cinnamon ¼ teaspoon
Ground cloves 1/8 teaspoon
Prepare the round dough circles as per the recipe.
In a blender or a food processor, combine brown sugar, butter, nuts, clove and cinnamon until blended properly. Use a rubber spatula to ensure that the mixture is incorporated properly.
With a sharp knife slightly score the back of each round dough (do not cut through the dough). Spoon about one teaspoon of the filling mixture into one side of the round dough and fold it in half. Press the edges using a fork to seal it completely.
Deep fry these stuffed Buñuelos in oil as per the main recipe. Remove from oil and drain well. Your filled Buñuelos are ready to be served.
Process
In a medium bowl, mix together sugar with warm water and sprinkle yeast over this mixture. Keep aside for 10 minutes or till froth appears over the mixture and you can smell the yeast.
Heat in a small saucepan milk, shortening and salt over medium heat until the shortening melts. Remove this mixture from the heat and let it cool down till it is lukewarm.
Remember yeast is a living organism and if you heat the mixture too much the yeast will die and the dough will not rise.
In a large bowl, place the flour and mix in it the milk mixture and the yeast mixing it briskly to incorporate all the ingredients.
As gradually the mixture becomes too thick to mix with a spoon, transfer it to a lightly floured surface and knead it for at least five minutes.
After kneading, the dough should be elastic when pulled and smooth, not sticky. A good dough should spring back when pocked into with a finger.
In a bowl, take a little oil and roll the dough in it for an even coat, flip it and cover lightly with a tea towel or a clear plastic wrap. Keep aside for a couple of hours in a warm place until the dough doubles in size.
After the dough has risen, punch it down and cut four equal sections out of it. Allow the sections to rest for another ten minutes.
Heat the oil to 375 degrees F in a skillet. You can even use an electric fryer.
Divide each of the quartered dough into three equal pieces and pat and stretch them into a four inch circle.
Carefully fry these circles (for approximately one minute on each side) until they turn brown and puff up. Cook both the side equally. Remove from oil and drain properly. Buñuelos are ready.
You can keep Buñuelos warm in a 200 degree F oven for up to an hour. You could even refrigerate them well and reheat as and when required. Reheat the Buñuelos in the oven at 350 degree F for 10-15 minutes before you serve them.
Why you should try it?
Buñuelos contains package active dry yeast, vegetable shortening and milk, which are good for health.