Indonesia, Malaysia, Vietnam: ASIA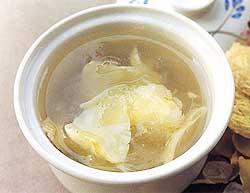 Call it "white gold", "caviar of the East" or a delicious broth, fact remains that the Swiftlet bird's nest have been harvested at homes and restaurants and wherever they possibly could, for the past two years, for serving them as soups in the restaurants.
In the breeding season, all the Swiftlets secrete a special kind of sticky saliva for binding twigs in order to build their nests. These nests almost look like semi-circular teacups, and this shape itself keeps their nests cemented to the cave walls. Collecting these cups can be extremely risky, as the collectors have to climb up to the high cave walls, on fragile bamboo ladders.
These nests are boiled; when tender the nest is separated form the saliva, which comes out as noodles. These nests are either stuffed into chicken, boiled with coconut milk to make dessert or cooked as a humble soup. Well, I shouldn't call it humble even if it's made of the most neglected twigs of a bird's nest, as a kilo of this very nest can cost you up to $2000 and a bowl of the nest soup in Hong Kong costs about $60.
This soup cures a running nose or a whooping cough and it tastes delicious too. Though it does not come within my domain of culinary world, and some of you may consider the same, I feel that it is quite normal as a cold reliever and an unusual delicacy. It's weird and out of place only in the terms of the "mad rush", which makes it a lot pricey; or should I put it that just because this particular nest is edible there is a mad rush…for a weird food generating $23.8 million in taxes in Vietnam, Indonesia and Thailand.
Swiftlet Soup at: ABC