Eggs are a delicious way to start the day. They pack enough calories to keep you working until you get your lunch. Here are 4 breakfast ideas using eggs to give your day a power start.
4 Egg-Based Breakfast Ideas
Basic French Toast
Ingredients – 8 eggs, 8 slices of day-old bread, 1/3 cup of milk, and 1/4 teaspoon ground nutmeg.
How To Prepare – Put eggs, milk, and nutmeg in a shallow dish and beat the mix. One by one, soak the bread slices in the egg mixture from each site and waiting for 1 minute to let the soak stay. Put a non-stick skillet, lined with a little oil, over high heat until it turns hot. Place some bread slices, as per the size of the pan, in the pan and turn the heat to medium. Cook the mix until it turns golden brown. Make sure no egg liquid should remain visible. Serve and enjoy!
Scrambled Egg With Smoked Salmon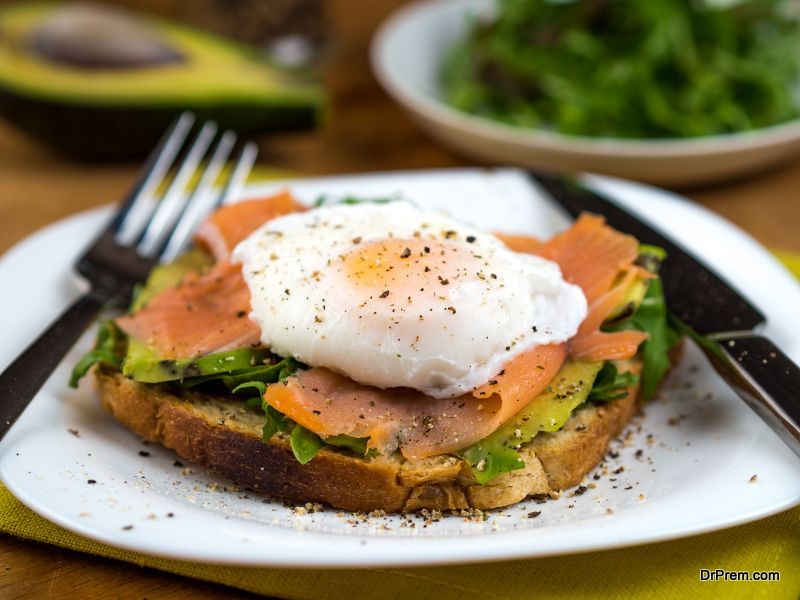 Egg, Arugula, and Herb Tartine
Ingredients – 1 egg, 1 tablespoon butter, 1 sprig tender rosemary, 2 thick good bread slices, 2 handfuls of fresh baby arugula, some chive stalks, salt, and pepper.
How To Prepare – Take the bread slices and toast them. Now, carefully scuff a little butter on the toast while putting the rest of the butter in a small pan to melt. In another pan, sauté the herbs and greens until they turn slightly sagged. Carefully add the egg to the mix and cook it on medium heat until it starts to mix up with the greens. Turn off the heat, season the dish with salt n pepper and enjoy with the toast.
Start your day with these eggetarian dishes and enjoy. Each one of these recipes packs enough energy to keep you going until lunch.