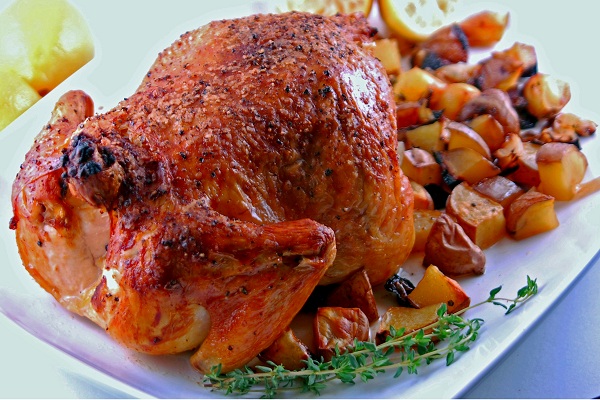 Whether it's Thanksgiving or just mere Sundays, a chicken roast completes every special occasion meal or makes a simple meal occasionally special. Chicken Roast is a salivating recipe that is being prepared since centuries. Roast is a slow way of cooking that infuses flavor into the food slowly. Chicken roast is an ideal delight for fussy kids who are drawn to the dining table by its magical aroma. Roasted chicken tastes absolutely special and is a once in a while special indulgence. Roasts are often served with vegetables, potatoes and pudding, thereby making up a sumptuous spread. Earlier, every special occasion of British farmers were celebrated with chicken roasts. It was then that the taste and aroma spread far and wide in nearby lands, catching the fancy of people. Thus a genius of cuisine came to be known. Though cooking it is a bit time consuming.
Complexity level
Easy
Time taken
1 hour, 30 minutes
Ingredients
1. 1.5 kg whole chicken
2. 1/2 cup extra-virgin olive oil
3. 3 teaspoons paprika
4. 3 cloves garlic, peeled and finely minced
5. 2 teaspoons onion powder
6. a pinch of salt and freshly ground black pepper for seasoning
7. 1/4 cup water
Process
1. Cleanse the chicken in running water and pat it dry with a kitchen towel. Make sure, no amount of moisture remains in the chicken.
2. Preheat the oven to 350 degrees. Place the chicken in a roasting pan.
3. In a small bowl, combine the extra-virgin oil, finely minced garlic, onion powder, salt and pepper. Stir well to make a paste and rub throughout the skin of the chicken.
4. Refrigerate the chicken for an hour or more.
5. Discard the extra dripping marinade and lay the marinated chicken over a rack.
6. Put the 1/2 cup water in the roasting pan and place the chicken rack over the roasting pan.(Take care that the chicken rack is placed considerably above the water level).
7. Roast chicken for about an hour or until you see the color change. A nice golden red color tends to appear on the chicken. Prick with a fork to test if the chicken has become tender.
8. Serve hot with fresh veggies, potatoes and pudding.
Tips
1. The more time you refrigerate your chicken, the more tastier and juicier it will become.
2. Prick the chicken with a fork before rubbing the spices. It tends to absorb the spices in a better way.
3. Don't overroast the chicken as it may become hard and burnt.
4. You can also use red color if you like, but make sure, it's approved.
5. You can also serve the roast with yogurt-mayo dip if you like.