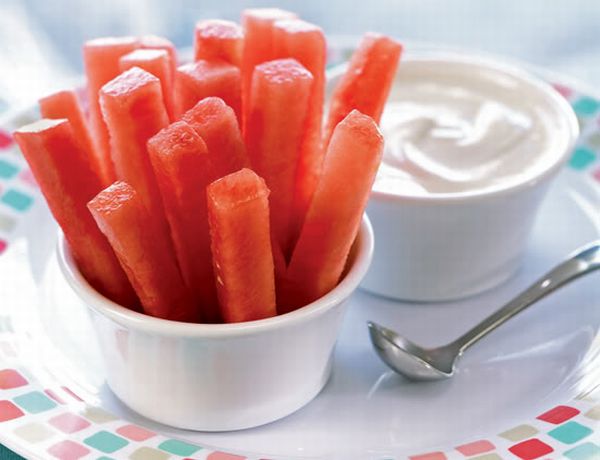 Vegetable dips are too old fashioned and they are something very common at every party. A fruit dip especially a watermelon dip is something new. Slicing watermelons and making a sweet dip can be a tasty and healthy addition to any summer time party! Watermelons contain around 92% water (hence the name). Although, we commonly refer to them as fruits, they are really a vegetable. Unlike most of the fruits watermelon has one special thing about it. Every part of the fruit is edible including the seeds and the rind.You can always lure your guests to eat healthy fruits and veggies even at a party if you have something like a watermelon dip on your menu. Fruits and vegetables are naturally bright with lots of texture. So, lets see how a wonderful watermelon dipstick is made.
Watermelon dip stick recipe
Choose a ripe watermelon, preferably a seedless watermelon. You can tap on the shell of the watermelon with your knuckles to find out if it's ripe. If it makes a hollow sound, it's ripe!
Complexity
It is easy to prepare even for a beginner.
Time taken
It hardly takes 15-20 minutes to prepare.
Ingredients
Watermelon
1 cup sour cream or cream cheese
4 tablespoons sugar
1 teaspoon vanilla extract
Method
1. Cut the watermelon into desired shape. For example, you can cut them into wedges, sticks or cubes as long as it's easy to handle and can be dipped.
2. To make your dip, mix in the cup of sour cream with about 4 tablespoons of sugar and 1 teaspoon of vanilla extract. Stir until the ingredients are well combined.
3. In a plate, place the watermelon pieces along with the dip. Your fruit dip is ready to serve. You can also serve it chilled.
Tips
1. You can use fruits like bananas, strawberries, cantaloupe, honeydew melon, mango or any other fruit of your choice instead of watermelon.
2. You can also serve a mixture of fruit to give that colorful effect.
2. Always be cautious when handling a knife.
3. A variation for dip can be done by mixing together a cup of cream cheese and about 4 tablespoons of sugar.
4. Don't forget to include napkins or wet wipes as fruits can become sticky.
5. Forks or skewers work well to avoid sticky fingers.
6. Remember to remove the seeds in the watermelon.
7. Always choose ripe watermelons so that they add on to the taste of the recipe.
So, enjoy this wonderful fruit dip which is refreshing and replenishing.