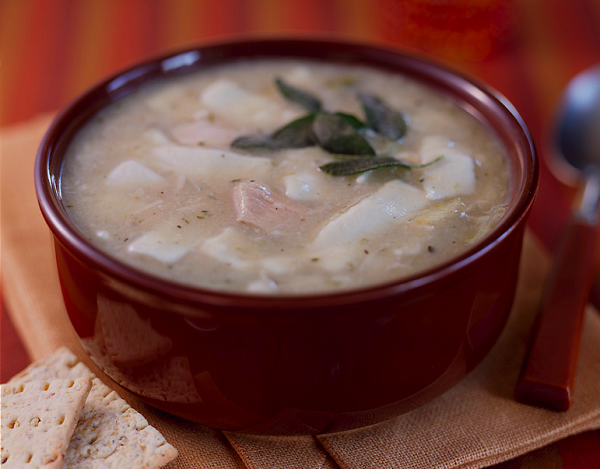 Turkey broth can be prepared from turkey carcass, which you often discard away. The next time, before discarding turkey carcass, think twice. This delicious broth is a moment's play. It is easy to prepare and is full of good health for your family. If you are a turkey lover, then I am sure, you will like this too. And be it any turkey gravy or stuffing dish you are preparing, this turkey broth will always come handy in enhancing the taste and you can even store it for future use. It's better if you refrigerate the turkey broth if you are not using it presently. It is quite difficult to trace its origins, but one thing is for sure, whoever invented it must have had an incredible tastebud. Try cooking this broth and add it to your turkey dishes, you will sure be left spellbound.
Complexity level
Easy
Time taken
2 hours 30 minutes
Ingredients
1 turkey carcass
3 sprigs fresh parsley, chopped
2 medium sized garlic cloves ( optional)
2 medium sized onions, sliced finely
3 fresh celery stalks, chopped
2 medium sized carrots, diced finely
1 bay leaf
water to cover
few drops of extra-virgin olive-oil
2 tablespoons red wine
1/2 teaspoon fresh basil leaves
2 teaspoons dried thyme, powdered
a pinch of salt for seasoning
a dash of freshly ground pepper for flavor
Process
1. Pour oil in a heavy bottomed saucepan. Heat the oil on high heat. Add the garlic cloves and cook till a strong garlic smell is emitted and the garlic cloves change color.
2. Now, add the turkey carcass, and cook for 10 minutes or until the carcass changes color and is browned on all sides. Cook the turkey till it becomes soft
3. Now add the finely sliced onion and cook till the they turn golden brown. After the onions change color, add the chopped fresh celery stalks and cook for about 15 minutes or till they change color.
4. Then add the wine and water and bring to a boil. Simmer the heat and cook for some time. Remove any impurities that float on the surface.
5. Then add freshly ground pepper, bay leaf, basil leaves and parsley. Bring the mixture to a boil.
6. Then reduce heat and cover with a lid and let it cook in its own steam. Simmer and cook for two hours.
7. Strain the stock into a bowl with the help of a sieve and discard away the solids.
Tips
1. The addition of garlic cloves is according to taste. If you want, you can omit it.
2. Refrigerate the stock if you want to use it in future.
3. Pepper and wine can be omitted if you are cooking the broth for children.
4. You can also serve it with crackers.