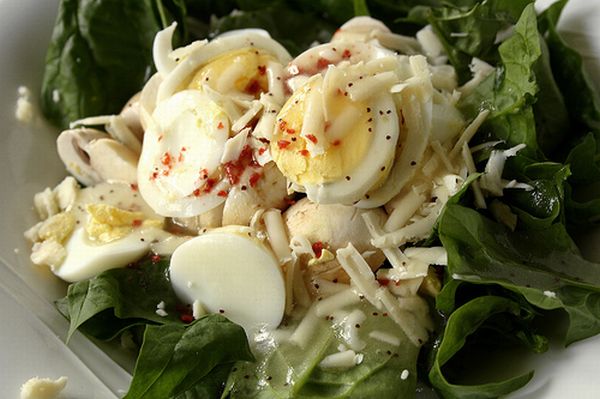 The life of a salad, whether it be an appetizer, a main course, or a dessert, lies in the dressing. If you are a salad lover, you may have wondered about the different names that the different types of salad dressing go by. From the basic and easy to understand vinaigrette and honey Dijon dressings to the more exotic chiffonade and bachelor club dressings, there is a certain romance and intrigue behind this names. Here is the lowdown behind seven popular salad dressing names that you can use to add an extra dash of spice to your dinnertime conversation.

1. Caesar Dressing

This dressing with olive oil, lime juice, egg, cheese and herbs is named after the salad it accompanies, the Caesar Salad. While some claim that it is derived from a salad of lettuce and croutons that was Julius Caesar's favorite, it is more likely that it was named after the 1920 Italian immigrant restaurateur Caesar Cardini, who ran a popular eatery in Tijuana, Mexico. Some people use anchovy fillets in the dressing though the original uses Worcestershire sauce to give the anchovy flavor.
2. Thousand Island Dressing

This mayo and chili sauce based dressing originated among the fisherfolk of the Thousand Island area of upstate New York. This was a blossoming summer tourism spot, that attracted the rich and famous, as well as fishing enthusiasts. The dressing became popular as the locals served it to visiting tourists and fishermen, and soon took on the name of its place of origin. It is marked by the finely chopped ingredients like pickle, olives, boiled eggs and other herbs.
3. Ranch Dressing

Ranch immediately brings to mind roasted onion and garlic in a buttermilk and mayo base. This simple but tasty dressing was an invention by the owners of a guest ranch called the Hidden Valley Ranch near Santa Barbara, California. They served it to their guests and as it became popular they began to manufacture take away bottles of it, and then dehydrated versions of it which you could add buttermilk and mayonnaise to and reconstitute. With time, the word Ranch was used to describe their food flavor, with Doritos and potato chips being marketed with the trademark flavor of buttermilk.
4. Italian Dressing

The story behind this name is a simple one, and it comes from the herbs that are used to make it. The Italian dressing is a very simple olive oil and wine vinegar base in which all the major Mediterranean herbs are added. The primary ingredients are garlic, oregano and basil, along with dill, fennel, onion and black pepper.
5. Green Goddess Dressing

Though this salad was in vogue for decades, it got its name thanks to a play by George Arliss by the same name. This name was given to it by the chef of the Palace Hotel in San Francisco to honor the great actor. It is a green hued mayo and sour cream dressing with anchovy paste, lime, pepper, chervil, chives, and tarragon.
6. Russian Dressing

Strangely, there is nothing Russian about this dressing with its mayonnaise and ketchup base with horseradish, pimentos, chives and spices. It was invented in the United States and gets its name from the fact that early versions of it used caviar, the Russian gourmet favorite, as an ingredient.
7. French dressing
Once again, there is little that is French about it other than the name that it is popular by – vinaigrette. It is a basic oil and vinegar dressing with a light touch of other herbs and spices. It was invented in the United States and was made popular by the French word meaning "little vinegar," hence the name French dressing.