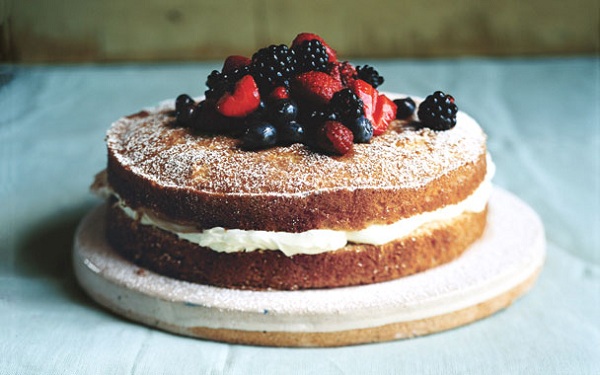 Name of the dish: Mascarpone Cake with Sherried Berries
It is said that 'all is well that ends well'. Now for a meal, it implies the same. Desert, usually the last but the most important part of a meal, as it leaves your mouth with just one taste-sweet. We are always looking out for nice, new desert recipes that will end a day on a sweet note. For this, a very special desert that straight goes into your heart, passing through your mouth is on its way.
The Mascarpone Cake with Sherried Berries is a fusion dish with its chief ingredient being Italian, the Mascarpone, a very soft, delicate, yummy cheese that is just the best. Mascarpone is a traditional Italian cheese that forms the base of many puddings and cakes. And when you talk of cakes with Mascarpone, it's a smoothie extravaganza. Buon Appetito!
Complexity level: Easy
Time taken: 2 hours
Ingredients

For cake
1. 2 cups cake flour, sifted (do not use self raising flour and sift flour before measuring 2 cups)
2. A teaspoon baking powder
3. A teaspoon soda bicarbonate
4. A pinch of salt
5. 1 cup unsalted butter, at room temperature
6. 1 cup brown sugar
7. A teaspoon pure vanilla extract
8. 2 eggs
9. 1 cup well-shaken buttermilk
For berries
1. 1/2 cup Fino (dry) Sherry
2. 1/2 cup brown sugar
3. 3 cups mixed berries, chopped into pieces
For cream
1. 6 ounces mascarpone
2. 1 cup chilled skimmed milk cream
3. 1/4 cup brown sugar
For Garnishing
Confectioners sugar
Process:
1. Preheat oven to 350 degrees.with a rack in the middle. Grease a 9-inch round cake mold with butter.
2. Gently sift together flour, baking powder, baking soda, and salt into a bowl.
3. Blend together sugar and butter in a large bowl with an electric blender till the mixture turns fluffy. Add in the vanilla. Then add eggs one at a time, taking care to continuously beat well after each egg. Blend at a low speed, pour in the buttermilk till the mixture takes shape. Pour the flour mixture in small portions, mixing continuously.
4. Pour the batter in the greased cake pan. Beat pan on counter a few times to eliminate air bubbles.
5. Bake until the cake rises and turns golden, for about 35 minutes. Insert a toothpick in center of the cake. If it comes out clean, then your cake is ready. Cool the cake in the pan on a rack for say,10 minutes. Run a greased knife around the edges of the pan to loosen the grip, then topple it on a plate. Invert the cake.
Berries syrup
Bring the Fino Sherry and brown sugar to a boil in a medium saucepan, stirring well till sugar dissolves. Put the chopped berries in a bowl and pour the prepared hot syrup over them, and gently mix to coat the berries. Let it stand for 10 minutes.
Mascarpone cream
Beat the mascarpone and cream with sugar in a large bowl using hand beater till the mixture forms stiff peaks.
Layer the cake
Halve the cake from the middle with a cake knife. Carefully remove the top half(as it is soft and prone to breakage). Put the halved bottom on a plate, and then spread evenly all of the mascarpone cream and slowly put on the top half. Serve with the berries syrup.
Tips:
1. Consume the cake within 24 hours of preparation.
2. Take care that the cake is not over baked, otherwise it may turn hard.