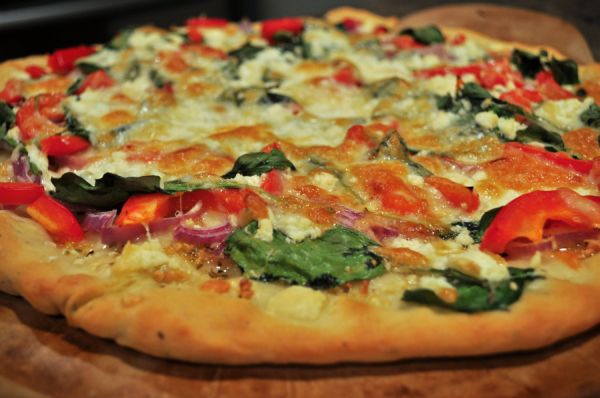 Pizzas have always been a hit with everyone, especially with kids or at an impromptu party or a great weekend snack that is sure to fill up everyone. Pizzas have been part of the Middle Eastern and Mediterranean cuisines for the longest time ever. Making a Pizza is not very difficult, even if you decide to make the base at home, and if you prefer to buy it, then the rest is really a child's play. For this pizza receipe, we would be using a nice thick base, much like the pizza bases that are usually available in the Indian market.
Time: Approx. 30 min
Ingredients
2 cups of plain flour or maida
2 tsp of fresh yeast
Vegetables of your choice (tomatoes, onions, mushrooms, zucchini, bell peppers, olives are standard ingredients, but feel free to innovate)
Mozzarella cheese (grated)
Basil leaves (chopped)
1 tsp of sugar
1 tsp of salt
1 tsp of olive oil
Process
1. Mix the maida, yeast, sugar, and salt and some water as required and knead it into a dough.
2. Once the dough is smooth, add the oil and cover it with a cloth and set aside for about 20 mins.
3. After the dough is ready, press it a little to remove extra air and divide the dough into equal parts of 2-3 balls.
4. Roll out the dough to the desired thickness. In case, you do not want a thick base, you can roll it accordingly.
5. Once the base is ready, cover the entire base with tomato sauce. The sauce can be homemade or you can buy a ready-to-use sauce from the market. Quite a few options are available these days that are specifically meant for making pizzas
6. Since our pizza is meant to be "cheesy", do not compromise on the cheese. Mozzarella is one of the best varieties and easily available. Generously spread the grated cheese on your pizza base.
7. Now for the topping, spread out all the veggies you want over the base.
8. My personal favorite is adding fresh chopped basil leaves to the topping, and if that's not available even dried basil in the form of spice is a good option. You can combine this with a dash of oregano, chilli flakes, and I like to throw in a pinch of pepper and salt as well.
9. Pre-heat the oven.
9. Sprinkle some more cheese on the top once again and drizzle some olive oil as well.
10. Your pizza is ready to go inside the oven. Bake your bread at 200°c for about 20 min
11. Serve hot.