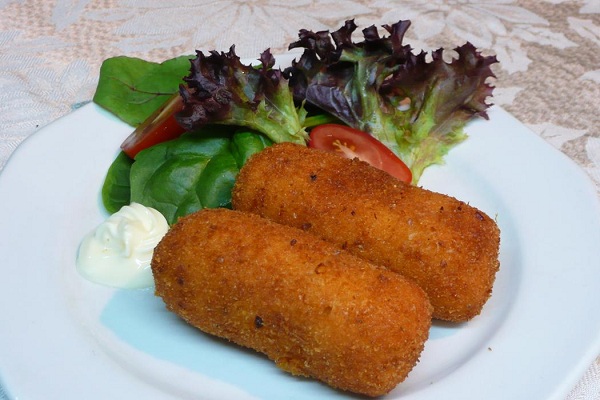 A wintry evening is lifeless without a plate of crisp hot croquettes. Croquette is a snack that has its roots in France. The word croquette has been derived from the French word croquer, that means to crunch.
It is a small fried roll containing various ingredients such as mashed potato, minced meat, vegetables, shell fish, soaked bread, onion, spices, herbs, all rolled in eggs and coated with bread crumbs, and then deep fried till it becomes crisp and golden brown in color. The croquettes can be shaped into a cylinder or a disk. Croquette has gained popularity worldwide and is known by different names in different countries. Sweet Potato croquette is a delicious variant of croquette that serve as appetizers, side-dishes or snacks.
Complexity level: Easy
Time taken: 1 hour 30 minutes
Ingredients
2 cups sweet potatoes boiled and mashed, take about 4 medium sweet potatoes
2 tablespoons unsalted butter
a pinch of salt and freshly ground black pepper for seasoning
2 eggs
1/4 teaspoon cinnamon powder
a pinch of sugar
3 eggs, beaten with the help of a whisker or blender
2 cups fresh bread crumbs
oil for deep frying
Process
1. Pour oil in a medium sized fry pan and heat it over high flame.
2. In a large mixing bowl add boiled and mashed sweet potatoes, unsalted butter, salt, 2 eggs, cinnamon powder and sugar and mix thoroughly with hand or use a blender to form a smooth and well blended mixture.
3. Refrigerate the mixture for sometime, say for about 1 hour to let the mixture set,
4. Now take out the mixture from the refrigerator and shape the mixture into small sized croquettes or cylindrical shaped rolls and set aside.
5. Roll the croquettes in the bread crumbs and then roll them in the beaten egg, and then again roll the croquettes in bread crumbs. Your croquette is ready to be deep fried.
6. Deep fry the croquettes in oil on low heat till it is crisp and a golden brown color appears. Fry the croquettes in oil for about 3 to 4 minutes on both sides. Take care not to overcook it as the croquettes may burn in the process.
7. Remove the croquettes from the oil and drain the croquettes by placing them on paper towels, as it soaks extra oil. Serve hot with any sauce or dip of your choice and enjoy your wintry evening.
Tips
1. If you want you can single coat the croquettes by rolling them in egg and bread crumbs only once, but double coating ensures your croquettes remain crisp.
2. By refrigerating the mixture, you can shape out croquettes easily.