Edible fruit basket is the arrangement of fruits in the form of a bouquet. This arrangement adds class and fun to any occasion, be it a child's birthday party, a get-together or someone's wedding. This makes a healthy and delicious centerpiece for any occasion. And moreover you don't need to serve it; guests can help themselves with this kind of arrangement. Even fussy eaters like children will love it because of its presentation and you can stay assured of the nutritious content it has.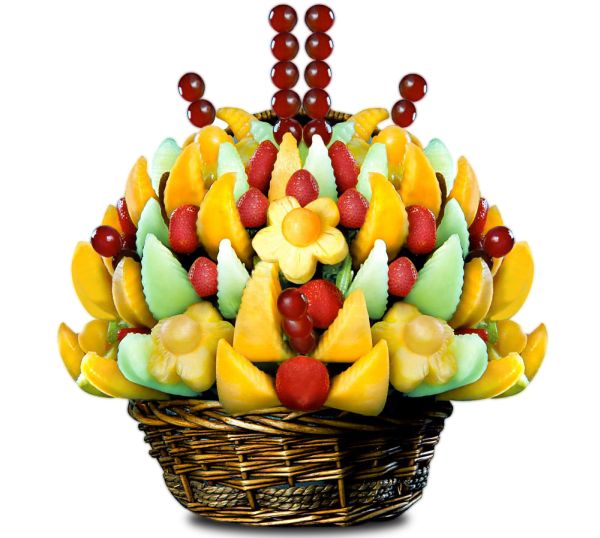 Preparing an edible fruit basket requires just a few basic items and ingredients, a little effort and ten minutes of your hectic schedule. It can also be a wonderful gift for the health conscious people.
Complexity level: Easy
Time taken: 10-15 minutes
Ingredients: ½ Pineapple, 1 Orange, 50 grapes (both green and black), 1 apple, 1 kiwi fruit, 1 cantaloupe, 10 gumdrop, Strawberries, some twigs of curly parsley or mint leaves and kale leaves.
Process: To leave an everlasting effect on your guests, follow the below mentioned simple steps to make the attractive and delicious fruit bouquet:
1. Take a vase or small container for the base. Prefer a utensil holder for the base, which can be used after the fruits are gone.
2. Take florist's foam or a lettuce head or play dough and place it in the base of the container to keep the skewers in place. Wrap it completely in plastic wrap to keep it away from the food.
3. Put the kale leaves into the container over the lettuce. The kale leaves will be held in place by bamboo skewers of fruit flowers inserted later.
4. Cut up the pineapple into 1/2-inch-thick slices. Use a cookie cutter to cut out the butterfly's and flower shapes out of pineapple. You can use a knife to cut it in simple shape as of a leave.
5. Scoop out one ball of cantaloupe and cut the cantaloupe ball in half and lay the flat side of one half against one pineapple flower (if you are planning to make flowers).
6. Take a bamboo skewer and pierce a gumdrop first onto it, then slide pineapple shapes. The gumdrop will help pineapple shapes to stick on the top of the skewer and doesn't let them slide down. Pierce the sharp end of the skewer through the center of the pineapple if it is a flower and pierce it vertically from the centre if it is a butterfly. Then thread a cantaloupe ball onto the end of the skewer so that the skewer does not show.
7. Arrange your edible flowers/butterflies in the pot to achieve the desired look. You can make the flower stems shorter by breaking the ends off or by cutting them.
8. Take a bamboo skewer and thread several grapes onto it. Make sure the grapes are touching each other and slide them to the top of the skewer. You can either put all black or all green or a combination of both color grapes in one skewer. Now arrange these grape flowers in the container.
9. Make strawberry flowers. Strawberries are generally best left whole since they are small and have an attractive shape without cutting. Pierce them in the skewer and then arrange them as well.
10. Cut Oranges, grapes, apples, and kiwi fruit according to their shape and use them for various skewers. Now stick them in the container as well.
11. Place some twigs of curly parsley or garnish it with mint leaves in between the skewers to give it an absolute bouquet look. Your fruit bouquet is now ready to be served.
Tips: Soak the apples in lemon juice to keep them away from turning brown.