Gingerbread House is a molasses cake with ginger flavor in variety of shapes and is decorated elaborately. A lot of time is spent in baking and decorating it.There are people who like to bake the pieces of gingerbread a little and then assemble later as per their convenience. Many a times people assemble it but find it hard to store the left out house. Here are a few tips to keep your Gingerbread House fresh and edible for a long period of time.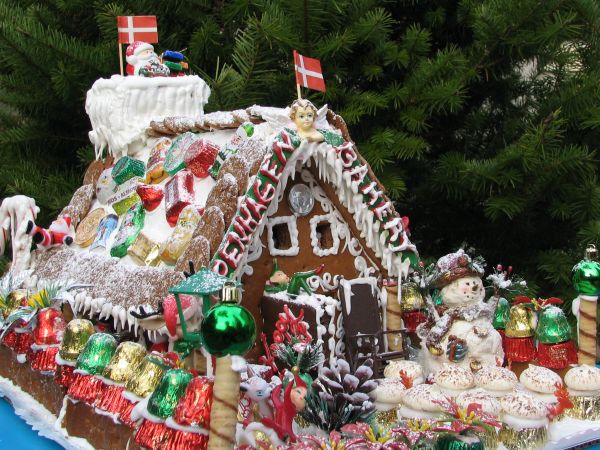 Storing baked pieces of Gingerbread House
1. The pieces should be placed in a dry area. It must be made sure that the pieces become a little cold.
2. You should have some air tight containers.
3. After the first layer of bread is placed, put parchment paper over it and line it.
4. The second parchment paper must be well lined. Now place a gingerbread layer over it and cover it with a parchment paper.
5. It must be kept in mind not to exceed three layers in each of the containers.
6. Now after you are finished with filling of such layers in each of the container, the lid must be closed.
7. It can be stored up to 1-3 months in the freezer and still remain fresh. You can take it out whenever required, decorate it and eat happily with your friends.
Storage of assembled Gingerbread House
Well, there are cases when you have already assembled the gingerbread house you made but need to store it. There is a way for that too. Here are some tips.
1. First of all gingerbread bread house must be placed in a cool and dry area devoid of any moisture.
2. Any bit of moisture in the air will affect the gingerbread and may stale it too.
3. For people who would want to store it for long period of time or may be transporting it to another place are supposed to wrap the delicate surface of it with foils.
4. The foiling ensures to keep those delicate parts protected and there is no way for it to smudge or break any way.
5. You must take care when you are trying to apply or remove the foil.
Some tips on plastic wrap
1. The gingerbread house must be wrapped very carefully in a plastic wrap at night.
2. The wrap helps to keep out the moisture and keep the house fresh for a long time.
3. Plastic wraps are good in keeping dust and bugs off your eatables.
There may be a situation when you don't feel like eating the gingerbread house you made, try spraying it with lacquer in a number of layers. Lacquer is available in hardware stores. After spraying, use a plastic wrap and seal it tightly. Now place it in a cool and dry place. If gingerbread is properly protected and sealed, it can be stored up to one year and can still remain fresh and edible.