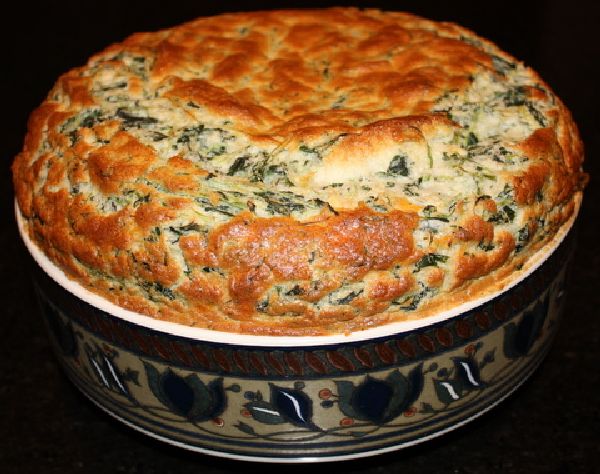 This is a lip smacking dish. It is not as hard to prepare as you might have heard about it. Many of you who are not cooks might have made this dish and it must have come out beautifully. Now, even you can try your hands at this yummy recipe. Read on.
Spinach and Cheddar Soufflé
The word soufflé is a past participial of a French verb "Souffler" meaning, "to blow up" or "puff up". Same as the meaning of word goes, this dish also puffs up due to the presence of egg whites in it. It is essential that the soufflé be served immediately as soon as it is taken out of the oven, as it has a tendency to collapse quickly. Soufflé is a light baked cake that includes egg yolk and egg whites combined with various ingredients like spinach, cheddar and parmesan cheese, berries.
Complexity level
Moderate
Time taken
1 hour approximately
Ingredients
1. 3 tablespoon unsalted butter, keep some extra for greasing the dish
2. ¼ cup of finely grated parmesan cheese, keep some extra for sprinkling
3. 3 tablespoons of all purpose flour
4. 1 cup scalded milk
5. ¼ table spoon of nutmeg
6. A pinch of cayenne pepper
7. Kosher salt
8. Freshly ground black pepper
9. 4 extra large egg yolks
10. ½ cup grated aged Cheddar cheese
11. 1 package frozen chopped spinach, defrosted, squeezed and dried
12. 5 extra large egg whites
13. 1/8 teaspoon cream of tartar
Method
Pre heat the oven to 400 degrees.
Grease one of the soufflé dishes with butter and sprinkle Parmesan cheese evenly.
Melt the butter in a small saucepan and add flour to it. With a wooden spoon, stir it constantly for two minutes.
Take the saucepan off the heat and add hot milk to it, whisk it so that lumps are not formed.
Add nutmeg, cayenne, ½ teaspoon of salt and ¼ teaspoon of black pepper. Cook over low heat whisking constantly for one minute until it becomes smooth and thick. Take it off the heat.
While the mixture is hot, mix the egg yolks. Add cheddar, parmesan and spinach and transfer them to a large mixing bowl.
In another bowl (electric mixture bowl) put egg whites, cream of tartar and pinch of salt and beat it with the whisker at a low speed for one minute, on medium speed for one minute and on high speed until it gets firm and glossy peaks are formed.
Whisk one quarter of egg whites into the cheese sauce to lighten, and then fold the rest. Pour the whole mixture into the prepared soufflé dish, smoothen the top.
Draw a large circle on the top with spatula and place it into the preheated oven.
Turn the temperature of the oven down to 375 degrees.
Bake for 30 to 35 minutes until it gets brown.
Serve immediately.
Tips
When making in advance, you can prepare this recipe in 3 steps. You can do it two hours ahead by keeping the mixture covered at room temperature and just before baking, you can proceed with the recipe.