This mouth watering Thai cuisine recipe is very famous for its rich juicy tuna dipped in spices and sushi rice with an amazing crisp layer. A perfect Sunday recipe and can be enjoyed hot and crisp with your family. Surprisingly, this recipe is very easy and hassle free to make. Read on about the recipe and know how you can make your Sunday lunch special.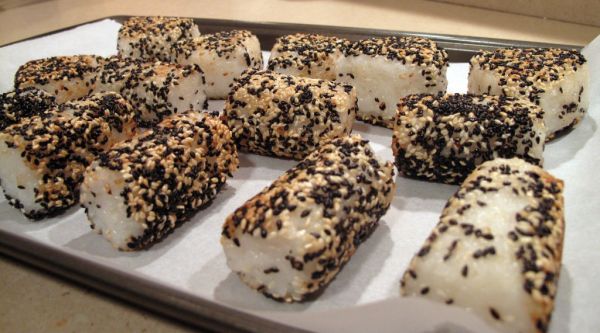 Complexity level: Medium
Time consumed: 1 hour
Ingredients:
1. Sushi grade tuna about ½lb
2. Mayonnaise about 2tbps
3. Sriracha say about 2tbps
4. Toasted sesame oil about 1tsp
5. White sesame seeds about 2tbps
6. Black sesame seeds about 2tbps
7. EVOO about 2tbps
8. 1 sushi mould
Process:
1. Coat the tuna
To coat the tuna you will first have to mix together Sriracha, mayonnaise and the toasted sesame oil in a small bowl. Now divide the mixture into two bowls equally. Take a large zip lock bag to place tuna into. But before you do that, dip the tuna into the mixture of the sauces prepared. Now place the dipped tuna into the zip lock bag to marinate it. Refrigerate the marinated tuna for some time. The remaining sauce needs to be kept to be served with tuna.
2. Now making the sushi rice
Prepare sushi rice and keep it aside to cool down. Once you feel the rice is cold enough, use the sushi mould to mould the rice into small rice cakes. Once your rice cakes are ready, mix the sesame seeds in a wide dish. Coating the sushi rice needs to be done very carefully. You will have to press the prepared rice cakes slowly and carefully to coat them with sesame seeds. Make sure your rice cakes do not break.
3. Making the rice cakes crisp
Now place a large pan over medium heat. Add EVOO to the pan. Let the EVOO heat properly before adding the coated sushi rice cakes to it. Crisp brown these rice cakes before removing it from the pan. Once browned, remove these rice cakes onto a paper napkin to drain the excess oil of the rice cakes. Now, loosely tent these rice cakes into a tin foil to place them into 180 degrees C oven. You have to place them into a hot oven to keep them warm.
4. Now fry the marinated tuna
You need to take the tuna out of the refrigerator now. Place a large pan on medium flame. EVOO needs to be added to the pan and heated properly before adding tuna to it. Let the tuna stay in the pan for 30 seconds, only before flipping it over. Now sear the other side of tuna for another 30 seconds. Take the tuna off the flame. Let it cool for about 2 minutes before you cut it with a sharp knife. Tuna needs to be cut into ¼ inch slices.
5. Arranging your recipe
Place the warm sushi rice cakes on a plate. Now place two slices of cut tuna on the top of rice cakes. Finally, pour the leftover sauce on the rice cakes and garnish with scallions.