Egg salad sandwiches are a must have for all the sandwich lovers. These savory sandwiches are extremely mouth watering and easy to make too. The goodness of eggs combined with the flavors of a salad and richness of mayonnaise to a deliciously delightful sandwich is a perfect combination for foodies all over the world. Scroll down to know how to make a finger licking egg salad sandwich.
Quick and Simple Egg Salad Sandwich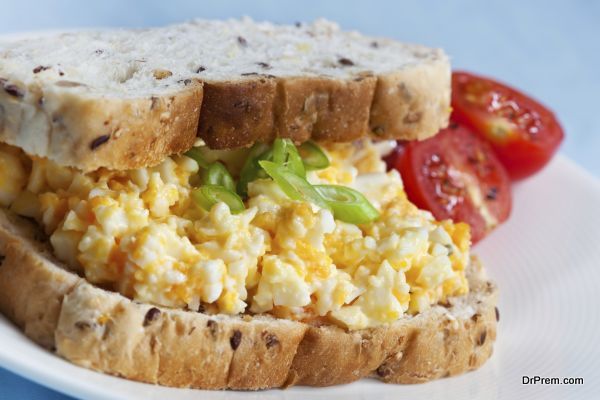 Hardboiled egg – 1, chopped and peeled
Mayonnaise – 1-2 tbsp
Celery – 2 tbsp, chopped
Green onions or chives – 1 tbsp
Salt and pepper – to taste
Lettuce
Bread slices – 2
To make the hard boiled eggs – take few eggs inside a pan and cover them with water. Cover the pan with a lid and bring the water to boil. When the water starts boiling, put off the flame and let it be covered for about 10-12 minutes. Remove away the water from the pan and cool the eggs by pouring in cold water. Allow the eggs to remain inside the cold water for some time.
Scramble all the eggs with the help of a fork and mix together mayonnaise, celery, onion and the hard boiled eggs.
Place a lettuce slice on one of the bread pieces. Spread the egg mixture over the lettuce and top it with another bread slice.
In order to add a taste and twist you can either add curry powder to the sandwich or substitute mayonnaise with avocado.
Mustard Egg Salad Sandwich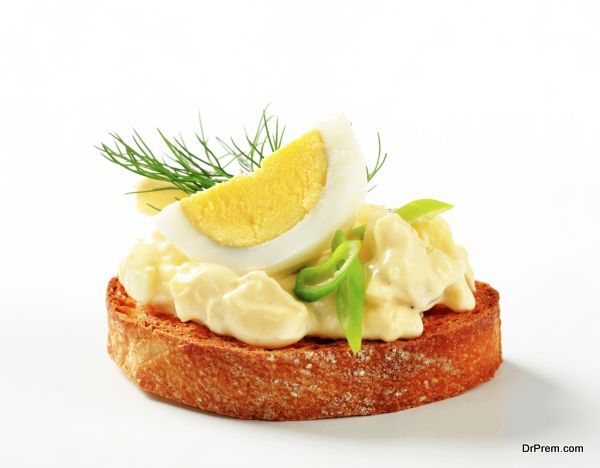 Eggs – 4, hard boiled
Mayonnaise – 2 tbsp
Red wine vinegar – 1 tsp
Dijon mustard – 2 tsp
Salt and pepper – to taste
Onions and Lettuce – for dressing
Make hard boiled eggs.
Mash the eggs as mentioned in the above recipe and mix the mashed eggs with the remaining ingredients.
Allow the mix to set for some time inside the refrigerator.
Spread the mixture over bread slices covered with onions and lettuce.
Lemony Egg Salad Sandwich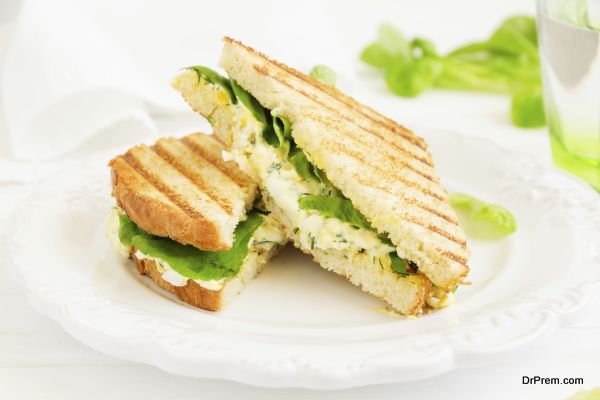 Hard steamed eggs – 6
Mayonnaise – ¼ cup
Lemon zest – ½ tsp
Fresh lemon juice – 1-1/2 tsp
Celery – 1/3 cup, finely chopped
Scallions (only white and green parts) – ¼ cup, finely chopped
Parsley leaves – 1 tbsp
Kosher salt and black pepper – to taste
Bread, lettuce and thinly slices radishes for serving
Directions
In a medium bowl, combine lemon juice, scallions, parsley, eggs and mayonnaise.
Mix while squeezing the eggs with the help of fingers, smash and whisk them to reach your desired consistency.
Sprinkle with enough salt and pepper.
Spread over bread slices and sliced radishes to serve delicious sandwiches.
Feast yourself with the amazing taste of eggs and the richness of mayonnaise, lemon and mustard.