Fresh and succulent strawberries are truly a delight to eat. They can be used for making a number of healthy and tasty dishes. These nutritious and delicious fruits have to be included in your daily diet. There are various health benefits of eating strawberries. They contain a wide range of nutrients with Vitamin C topping all. There are enough amounts of antioxidants and phytonutrients that fight free radicals. Apart from vitamin C, the berries are a rich source of manganese, vitamin k, folic acid, riboflavin, potassium, vitamin B5, B6, magnesium, copper and omega-3 fatty acids. Here is a list of 10 recipes that you can easily make with the strawberries.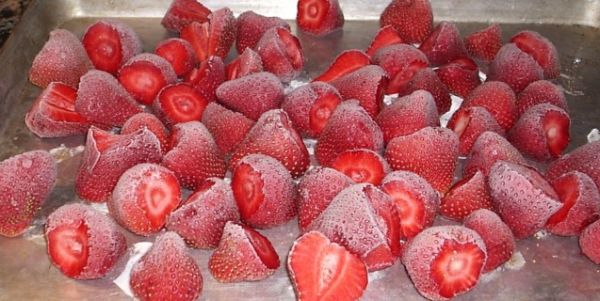 1. Sugar free chocolate covered strawberry
Complexity level: Easy
Time taken: 30 minutes
Ingredients: Ripe and fresh strawberries, cocoa powder 3 tablespoons, coconut oil 3 tablespoons and 4-5 drops of liquid stevia.
Process: Wash well and dry the fruits. Heat a pan and melt some coconut oil. Add cocoa and still it becomes smooth. Add the Stevia. Dip the chilled strawberries in the thick mixture to coat. Your chocolate covered strawberry is ready.
2. Strawberry Sorbet
Complexity level: Easy
Time taken: 30 minutes
Ingredients: Organic strawberries (10 oz bag), 2 cups of water, 1/4 cup agave nectar.
Process: Use a blender and add water, strawberries and agave to it. Blend well using the highest speed till you get a smooth mixture. Pour this mixture into your ice cream maker to get excellent tasting strawberry sorbet.
3. Savory Salmon and Strawberries
Complexity level: Moderate
Time taken: 45 minutes
Ingredients: One pound of salmon fillet, House Seasoning, julienne red and green bell pepper one each, one medium onion sliced, one medium orange sectioned, cleaned and diced strawberries 1 pint, 1/2 cup water, 1/2 cup agave, 1/2 cup freshly chopped chervil, minced garlic 4 cloves, two tablespoons chopped green onion and juiced lemon.
Process: Place the fillet on a pan lined with foil. Season it with House Seasoning and cover the fish the green and red bell pepper, orange slices and onion. Add strawberries, agave, water, garlic, chervil and onion. Add the lemon juice and the strawberry mix over the fish. Cover the dish with a foil and make holes on it to let out the steam. Bake for 25-30 minutes and serve.
4. Argula and Strawberry Salad
Complexity level: Easy
Time taken: 25 minutes
Ingredients: Chopped walnuts 1/2 cup, baby argula 4 cups, sliced strawberries 4 cups, Parmesan cheese crumbled 2 ounces, freshly ground pepper 1/4 teaspoon, salt, aged balsamic vinegar 2 tablespoons and extra-virgin olive oil 1 tablespoon.
Process: Take a dry skillet and heat it with medium heat. Add the walnuts and keep stirring till they become brown and release aroma. Put it into a salad bowl. Now add the strawberries, argula, cheese, salt and pepper. Sprinkle the oil and vinegar over the salad, toss gently and serve.
5. Strawberry Coolers
Complexity level: Easy
Time taken: 10 minutes
Ingredients: Chilled orange juice 2 cups, hulled strawberries 1 1/2 cups, sugar 1 tablespoon and chilled ginger ale 1 1/2 cup.
Process: Use a blender to combine the strawberries, orange juice and sugar till you get a smooth texture. Pour the puree into a large bowl, all the ginger ale and serve with ice.
6. Strawberry smoothies
Complexity level: Easy
Time taken: 10 minutes
Ingredients: Whole frozen strawberries 10, low fat milk or almond milk 1 cup, silken tofu 1/2 cup and sugar 2 tablespoons.
Process: Take and blender and add the ingredients. Blend them well till you get a frothy mix. Pour into decorative glasses and serve.
7. Strawberry Shortcake
Complexity level: Easy
Time taken: 30 minutes
Ingredients: Egg 1, coconut milk 1/ cup, olive oil two tablespoons, almond flour 1 cup, baking powder 2 teaspoons, salt, agave 2 teaspoons, crushed pecans, whole and frozen strawberries and cinnamon to taste.
Process: Add all the ingredients except frozen berries and walnuts to a mixing bowl and mix well. When the batter is ready add them along with the walnuts. Pour this mixture into a baking oven (greased) Bake it for 20 minutes at 425 degrees.
8. Fresh Strawberry Jam
Complexity level: Easy
Time taken: 25 minutes
Ingredients: Ripe hulled strawberries 2 pints, sugar 2 cups, lemon juice 2 tablespoons, water 3/4 cup and powdered pectin 11 3/4 ounce pack.
Process: Use a potato masher and crush all the berries in a bowl. Add the lemon juice and sugar. Leave it for 10 minutes. In a small saucepan, add the water and pectin and boil it for one minute. Slowly add the strawberry mix into it and dissolve the lumps. Stir it for about 3 minutes. The jam is ready and can be spooned into your favorite glass bottles. Wait for 24 hours for it to set well.
9. Strawberry Cream
Complexity level: Moderate
Time taken: 3 hours 15 minutes
Ingredients: Cold water 3 tablespoons, unflavored gelatin 1 envelop, hulled strawberries 4 cups, sugar 1/2 cup, vanilla extract 1 teaspoon, reduced fat sour cream 3/4 cup, hulled and diced strawberries 1 cup and sugar 2 teaspoons.
Process: Make the cream first. Add the gelatin and water in a heatproof cup. Microwave it without covering for 20 seconds. Take some water in a skillet and place the gelatin bowl in the simmering water till everything is dissolved. Stir the mixture till it becomes smooth.
Make a puree with the strawberries, vanilla and sugar. Add the sour cream and mix well. While mixing with the motor add the dissolved gelatin slowly. Pour the mixture into the serving glasses and keep them in the refrigerator for setting. Leave them for 3 hours. While serving add tossed strawberries and sugar to each.
10. Citrus Infused Strawberries
Complexity level: Easy
Time taken: 20 minutes
Ingredients: Hulled and sliced strawberries 1 pound, sugar 2 tablespoons, orange liqueur or Grand Mariner 1 tablespoon and lemon juice 1 tablespoon.
Process: Mix sugar, strawberries, lemon juice and Grand Mariner in a bowl. Let it stand for some time and stir occasionally till the juice from the strawberries is released. Wait for about 10 minutes and savor.